- Sat Jul 10, 2010 8:04 pm
#328620
<object width="480" height="385"><param name="movie" value="
name="allowFullScreen" value="true"></param><param name="allowscriptaccess" value="always"></param><embed src="
" type="application/x-shockwave-flash" allowscriptaccess="always" allowfullscreen="true" width="480" height="385"></embed></object>[/youtube]
It's amazing how much water is around me. I've lived in this mountain valley for almost ten years and I'm still finding all kinds of new places with great fishing that are close by. I went to another new spot a couple days ago. I had aspirations of checking out a high lake with some cutts, but with the daily lightning and thunder I figured I should stay a little lower and closer to the car.
My day started off well. I got laid a little after the sun came up, and in the afterglow I literally jumped out of bed and said, "Time to go fishing." "I want to come too," she said. "OK," I said, "we're leaving in ten minutes and there's shitloads of mosquitoes where we are going." "Nevermind," she said. I smiled on the inside, I was in the mood to fish alone.
I gassed up and got breakfast/lunch from Julio. You wouldn't believe how good his burritos are after they marinate in your backpack all day. I headed west at a leisurely pace so I could both enjoy the fine morning and keep the fuzz off my back. I blasted past Parshall (four cars) and the Breeze Units (too many cars to count). Suckers. I little further on, I turned off the main road, slipped and skidded down an insanely muddy road for a couple miles, and arrived at my destination (no cars there).
Looks pretty fucking good, I was thinking. I have fished this creek before, but never this section, and I had no idea it would look like this. I could hear riffles downstream and could see nothing but glass upstream so I hiked down a little to see what I could see.
I used to be a dry fly snob, but I've gotten away from that for the last few years, until now. I think I'm right back in it, it's just so nice to not have all that shit on your line. So I tied on a hopper and fished some water like this for a little while: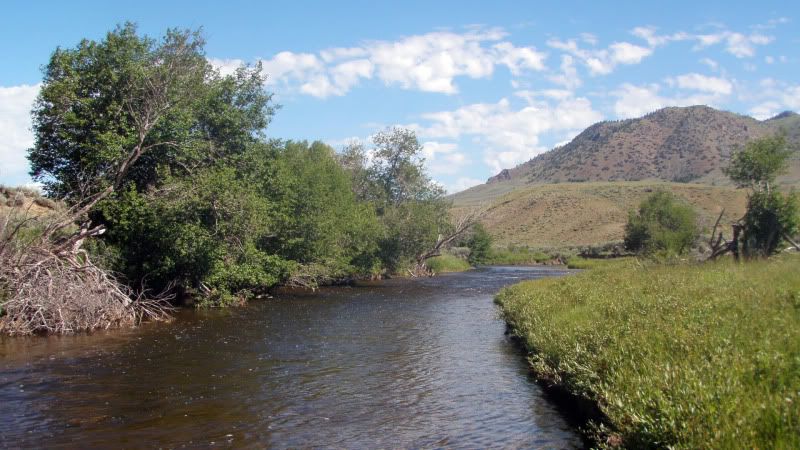 Got a nice brown and a small bow, then moved upstream for something a little more challenging and fun.
The fishing was good. You could spot a rise 50 yards away so I just wandered around real slow and headhunted. I lengthened my leader and put on a smaller terrestrial. I was rewarded handsomely with quality fish. This is a shitty pic I know, but I was alone and without a net, and a little retarded.
The mosquitoes were horrendous. Thunder and lightning was imminent. I had my fill so I slipped and slid my way back up that muddy hill.
I had lots of time to kill yet so I took a long way home, scouted some more water I had never fished, and watched the storms roll over the peaks.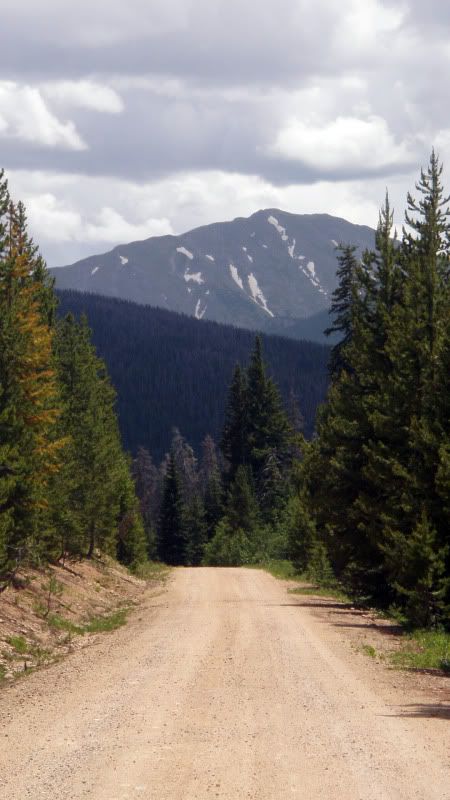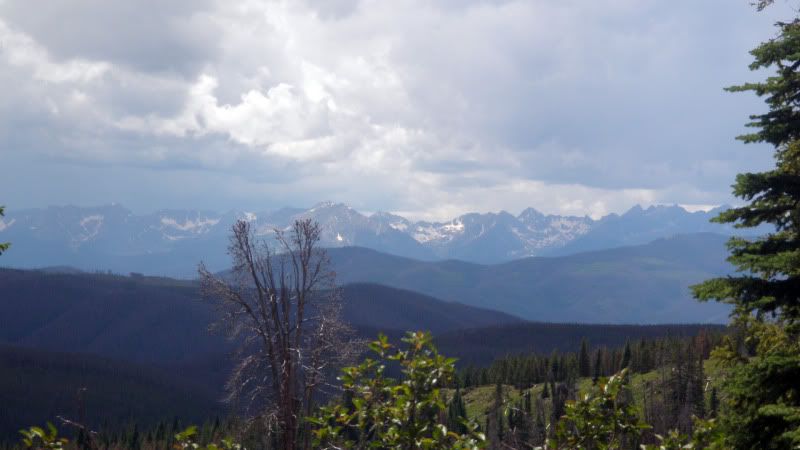 It was a good start to my weekend. But then it took a nosedive when I went trolling for walleye at Chatfield and the biggest thing I reeled in was somebody's t-shirt. Ah, well...still nice to get out.
Well, that's it. I'm going out for a beer to end my weekend so I can go back to work and think about that high lake all week, again.
boy in long pants