[report]A Video to my Namesake
After a LONG wait Finally picked up my New Skiff from Tarpon Fishing Legend Harry Spear last weekend. Woke up very hung over sunday morning before the sun to meet Harry in Jacksonville. Almost threw up in the Cracker Barrel as we had breakfast and chatted about fishing, Family, God and Friends. Harry is a great guy I wish we had talked more about fishing but Harry loves to talk about Family and life ect...
Got the boat back to Charleston without blacking out with enough time to take the Fiance on the maiden voyage up and down the ICW with a few beers to get me back to normal.
Dropped her back at home and waited for my fishing buddy. Got the boat back in the water with more beer and hit the flood tide.
The Spear Boatworks Glades Extreme ( or Glades X as I call it because I hate the over use of the word Extreme in modern culture) Performed amazing. I would guess runs 30 mph with the 25 2 stroke Merc. At only 240 lbs finished hull weight rides like a bigger flats boat eating up wakes and keeping us dry without any slaps or slams. Harry designs these hulls by hand with over 30yrs guiding and building experience without the modern tools like CAD design and the boat handles and performs incredible.
With the boat floating in essentially no water we were quickly on the flat with the rising water and began to see tails. Quickly had my buddy hooked up on the first fish... a normal size redfish. High Fives ensued, but was quick to release as I saw a really big tail on the grass edge in deep water. knew it had to be big because that water was over 2 feet on the edge. I took the bow and we gave chase. The boat is so light and poles so easily I had to tell my buddy to slow down or we were going to run this fish over as we approached. He is use to pushing a much heavier boat. First cast short pick up and second cast right over the fishes shoulder and wham big eat and hooked up. First fish in the grass to run me into my backing in a while. After some holy shits and "man that was an insane eat" I am feeling really good and already picturing my first fish on the skiff being a Toad. The fish ran under a huge island of floating dead spartina grass and as we pulled him closer to the boat there was so much dead grass on his face you could barely see his huge mass. As I lifted the rod tip to bring him into arm reach the grass all pressed on his face he exploded and hook pulled. My buddy slumped and looked like he was gonna cry but I was just excited about a great eat and how well the skiff was performing. The light was almost gone and the water was high so we ran home.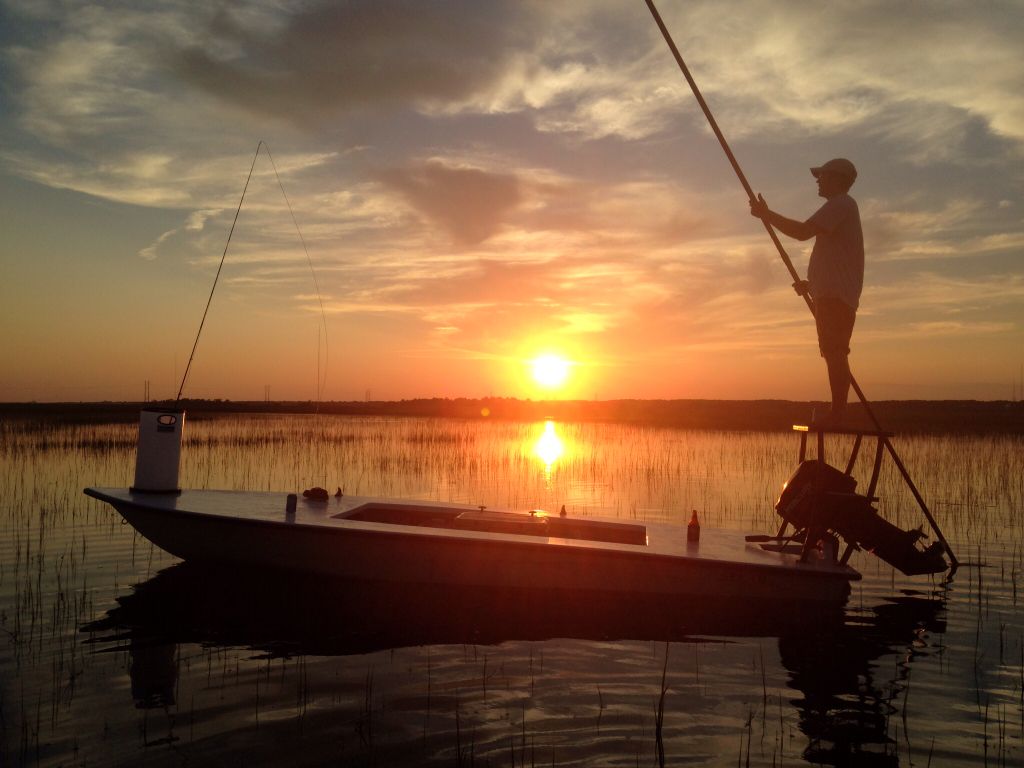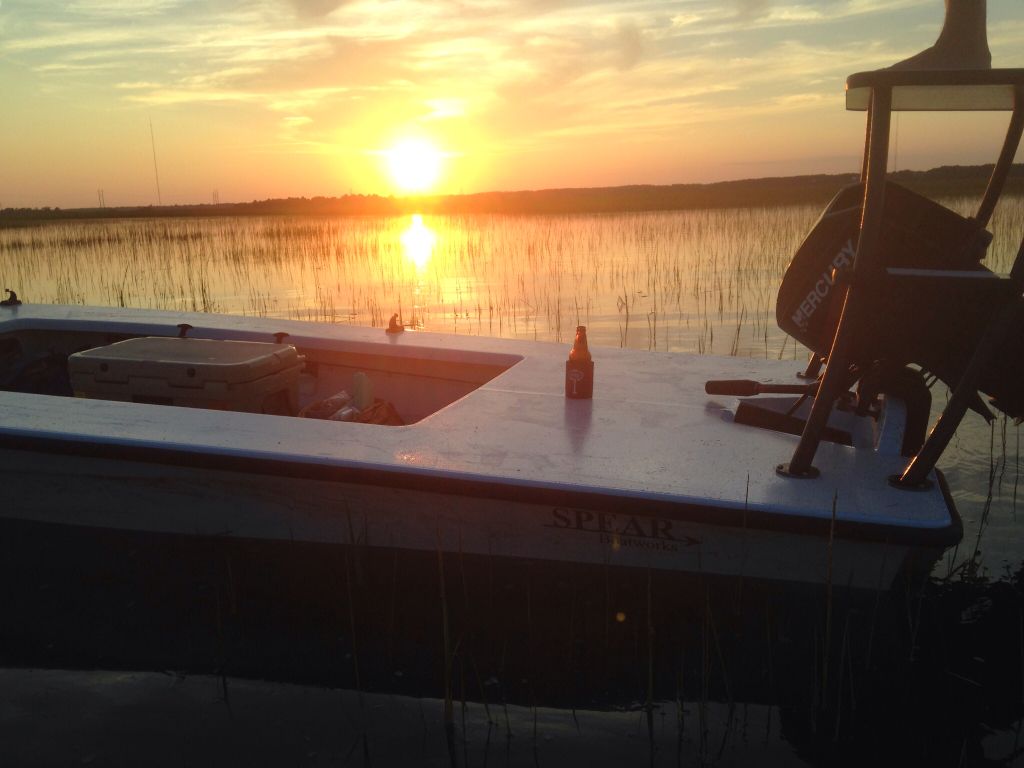 Played hookie the next day after a little work in the morning for a solo Low tide excursion and to really put the new boat through the paces. Was excited to see shrimp popping in my wake on the way to the flat. Decided to see how shallow the boat would run. so picked some skinny spots. I was impressed to not see any brown in my prop wash while running in water I would have normally putted through in the bigger flats boat I usually run. Got to bank to see fish pushing with their back out of the water and tailing. Adrenalin started pumping which is not always a good thing while trying to sight fish solo. My mind was obviously a little cloudy as I decided to throw a go to EP baitfish pattern even though I saw shrimp literally jumping in my boat on the way there. After a few frustrations of trying to get use to a new boat set up, and situate my stripping bucket, and find a place to put my pole while I cast and position the incredibly light boat in the wind. ( have not installed a push pole holder or any ropes on the platform yet) I finally got my shit together and made some nice casts to only have the happy pushing fish run in fear of my fly. Finally switched to a shrimp pattern and immediately had a nice Flounder pick it up. He was released after strong consideration of fish sandwiches.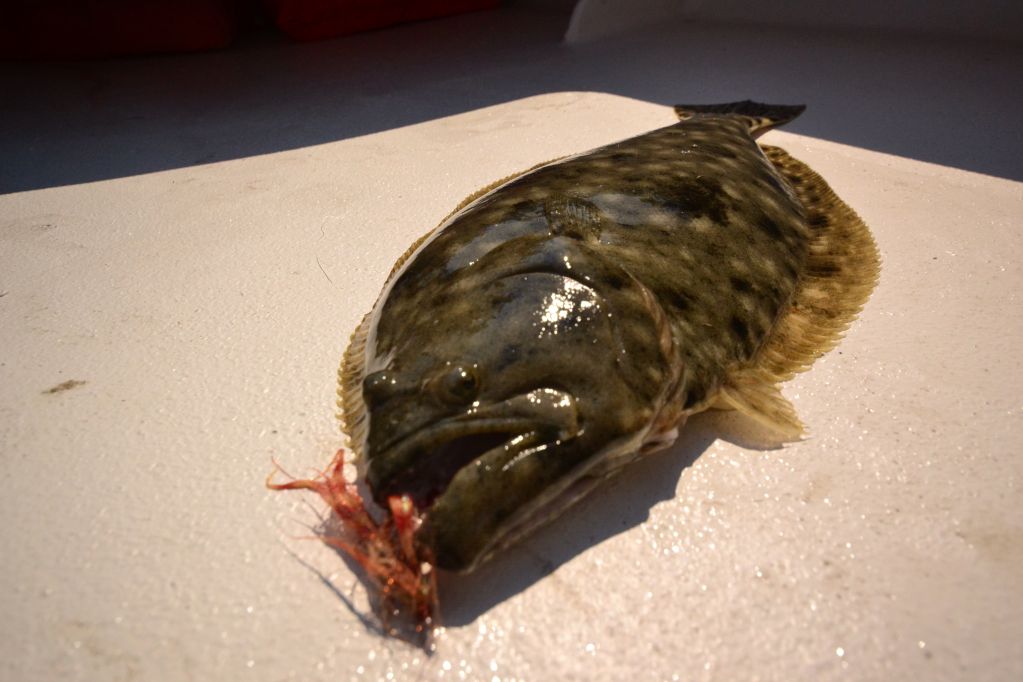 Wind picked up and the water had fallen to were the redfish were no longer tailing or cruising the bank. Decided to try to get in a creek and out of the wind. Took advantage of the nimble poling abilities of the skiff and pushed back into a creek I have only been able to access in my buddies 14ft skiff. The Spear Boat slid right in over the 4in bars and between oysters just wide enough for boat. Was hesitant to push farther as I had already scratched the hull on an oyster, but around the bend the sound of reds crashing shrimp I pushed on. The first scratch on a new boat, be it oyster rash on a skiff, or a rock chip in a new drift boat will always sting you a little.. but add character. The creek opened up to about half a football field of chocolate flat water. I waited to reconnoiter a bit and saw a huge Red come nearly out of the water on the far side of the flat after some shrimp. Not wanting to immediately pole over and spook any fish that maybe between me and the busting fish and ruin the whole flat.... I waited. Then I saw a huge fish come out of the deeper water ( maybe a foot) to the shallow bank with his entire back out the water. He chased shrimp up to 10 feet or so to my boat. I casted... he swung... I pulled the fly away and missed. But he was dumb and hungry and did a circle looking for the vanished shrimp I pulled away. I set the shrimp fly back down in front of him with only my leader out of the tip top and thump he ate. I didnt fuck it up this time and he was on running back to the deeper water and spooking about 8 other huge fish on his way. Once to hand did my best to take a solo pic of the first redfish on the new boat, and stud at that. Wide angle lenses and timers help this process.
Released and proceeded repeated 3 more times all fish over 10lbs.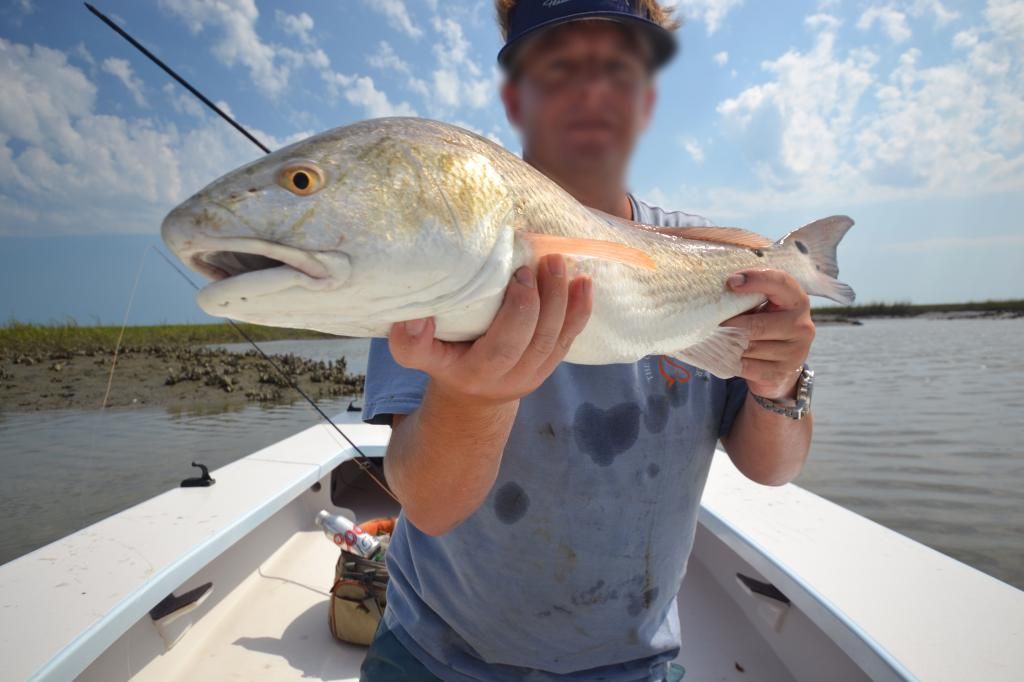 Flood Tide Visor always brings in the good MOJO.
Was home in time to pretend to get some work done. Solo trips are always challenging and most rewarding. Looking forward to many more trips on the new Boat.[/report]