- Sun Jul 12, 2015 6:27 pm
#603948
A couple of days ago, I got a phone call from a friend. The conversation basically went like this: Him: You ever fish mice before? Me: Nope. Him: Do you want to try it this Saturday? Me: Sure let me clear it with the wife. The call was followed up with a text of a couple of fish pics that had me even more excited about trying it. After clearing it with the wife, I told him that I would meet him on the water at 9.
The day of the trip saw a lot of thunderstorm activity in the valley. As I made the relatively short two hour forty minute drive, I went through several decent storms. When I arrived at the location, it was raining pretty nicely and the sky was completely cloud covered.
After dunking my old kit mid-range zoom lens, I recently purchased a replacement. I was curious to see how it would do under the dark conditions and being hand held. I took a test shot after I got all set up to see. This one was shot hand held at 1/10 f2.8 ISO 100. Actually I shot all of the scenery shots at 1/10 2.8.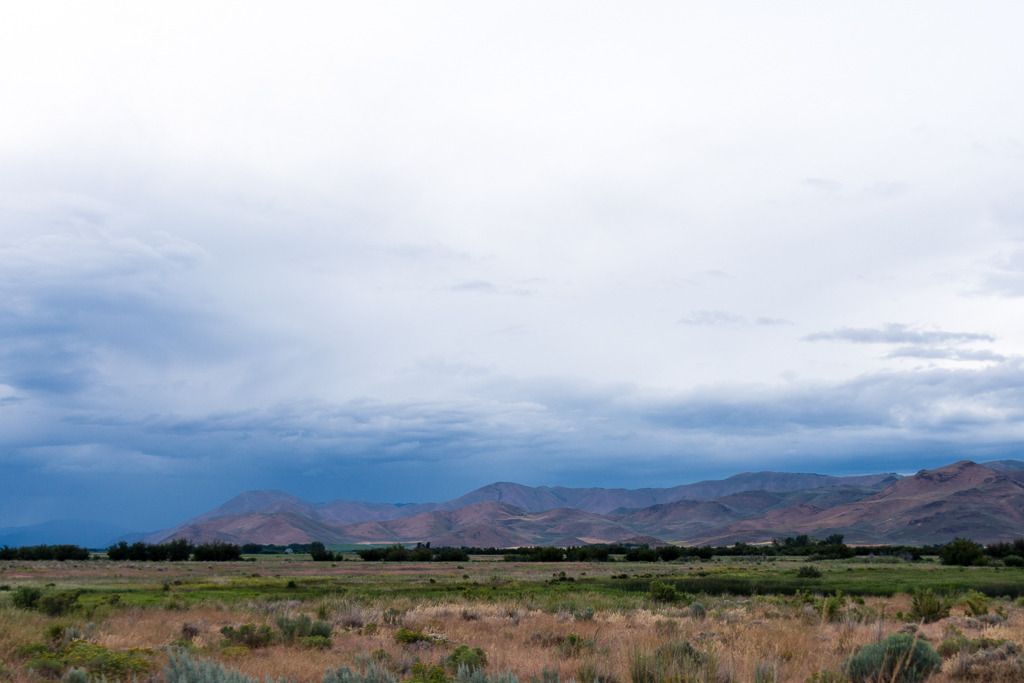 It was starting to get dark very quickly as we walked down to the water. Once there we waited a bit to watch what was going on. As we waited, we saw a nice size vole enter the water and start to swim towards the other side. We watched with anticipation for something to strike it; however, the vole ended up making it safely to the other side. I took a couple more scenery shots and then began to fish.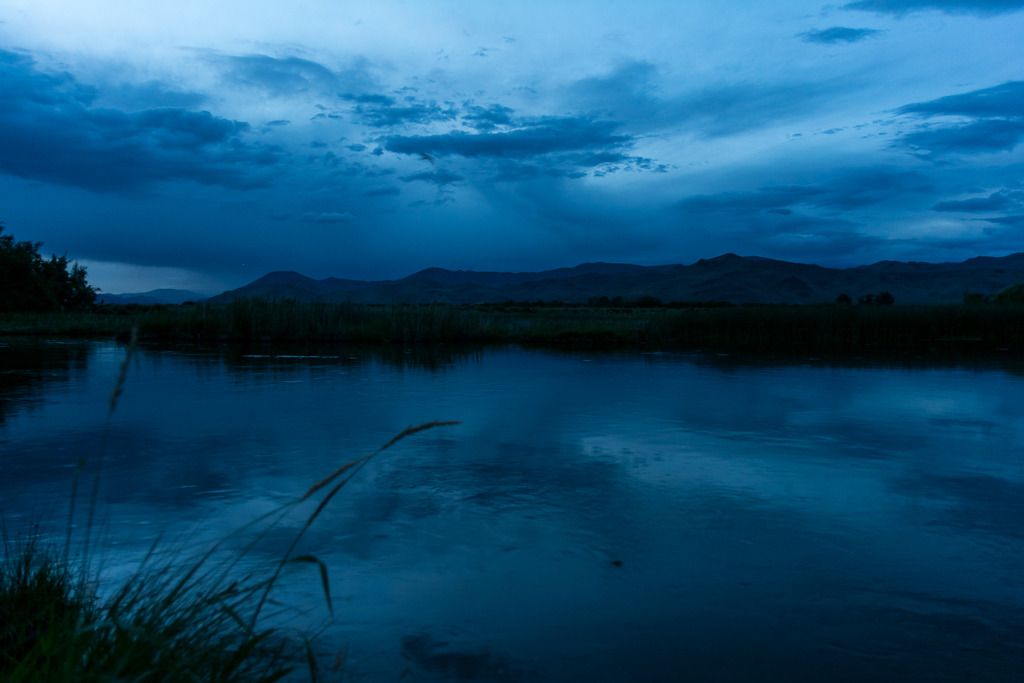 This is the same shot but without the exposure adjustment I made in Lightroom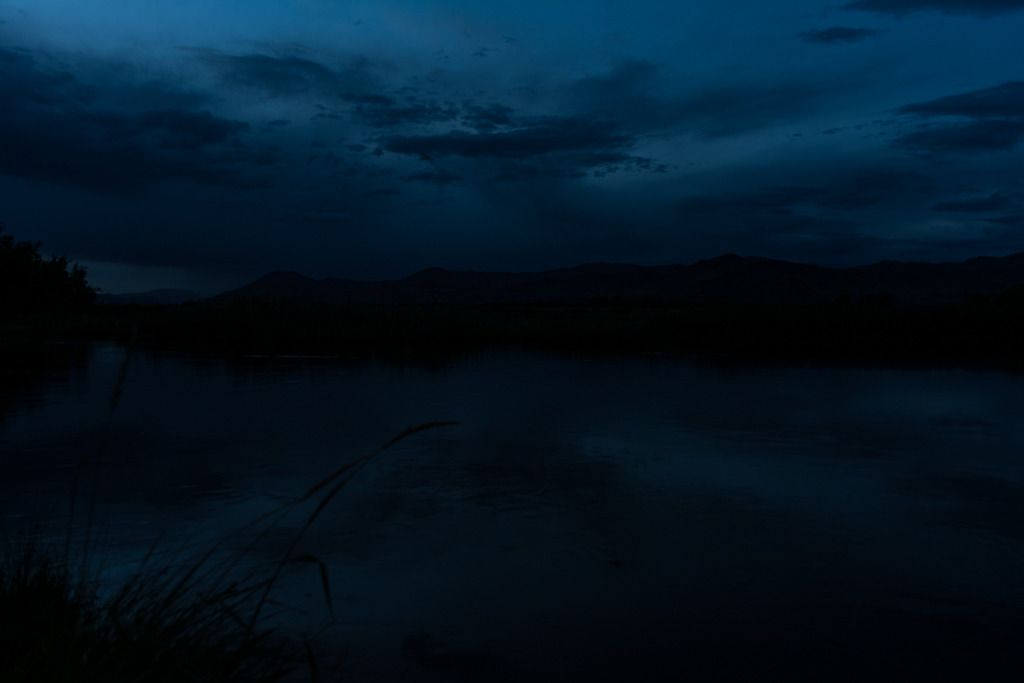 .
Same as above one shot with and one without the adjustment.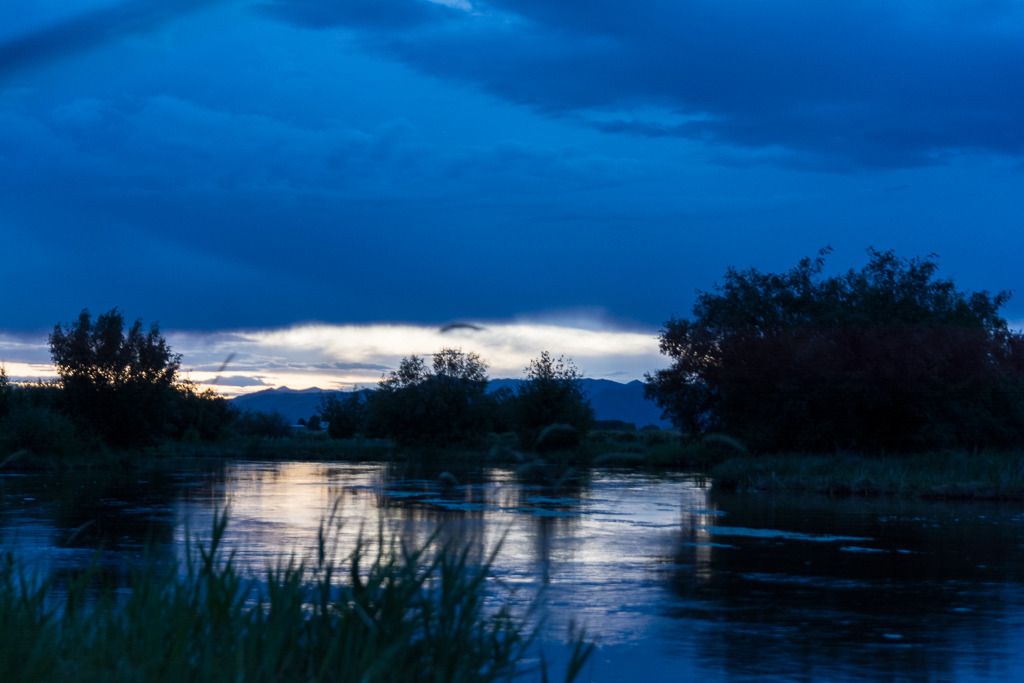 .
We had been fishing a while when I heard a splash downstream. Almost as soon as I heard that, I heard him say that he had one. I stopped fishing, turned on my red headlamp and went down to help net the fish. It wasn't one of the monsters that live there, no matter now the skunk was off.
A short time later, he hooked a much larger fish. On my way down to help net it, the fish ended up getting off. I went back to fishing and soon I heard a splash and felt a large tug. In my excitement, I had forgotten what I was told about mouse fishing here, tried to set the hook to early and ended up not hooking it.
We decided that we had beaten up this hole enough and moved on. At the next hole, I took a quick break while he fished for a bit. He didn't get anything there then I decided to try. On my third cast, I heard the telltale splash, this time I slowed myself and did not miss the hookset. I could tell that the fish wasn't that big but it did fight quite well. He netted the fish for me, I took a photo and then the fish was released.
We continued downstream and fished several more holes. Neither one of us ended up hooking anything else the rest of the night. Each of us had several more missed strikes, some of which sounded very large. Around 0110 all action ceased, at this point it was decided to call it. We walked back to our cars and took our gear down. He was staying the night so he got set up and I took off back for home. While no huge fish came up this trip, I had a great time and popped my mouse fishing cherry. I loved fishing like that in the middle of the night although, I don't think that I would do it by myself.