So Franny is gonna be a daddy to a little boy. He's been living the life some of us wish we had when we were in our early 20's - guide, fly tyer, world traveler, industry expert, lover of BK Hershey Pie, and noted organic fishing trail fertilizer. Thought it might be rather Drakian to show Slim and his new Family some support.
From the reveal party courtesy of NCguy: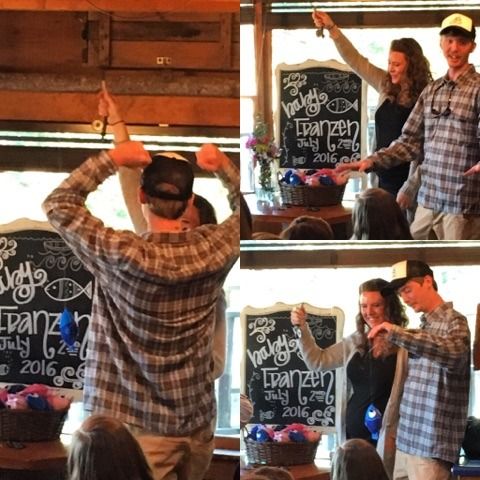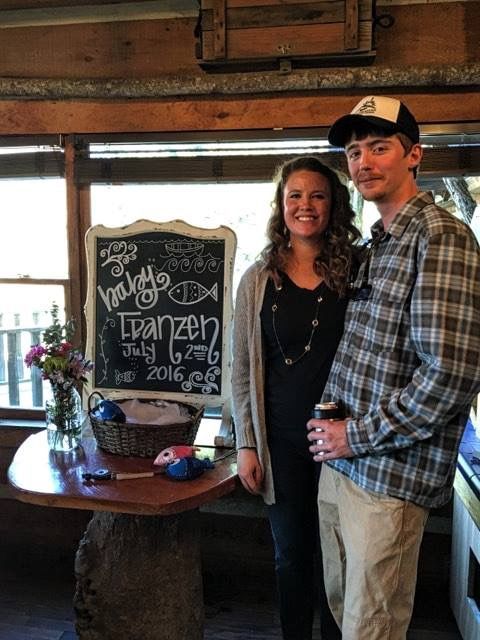 It's all over but the cryin'
Thanks, everyone who has made this a great success. I spoke with Young Franzen last night from Chile. He was very moved by this show of support.
Here's what we collectively raised here:
97 tickets were sold @ $20/ticket = $1940.00 less $10 for the blank raffle tickets =
$1930.00 net
Here's what the plan is: Chris and Jessica are registered in two places, one local and one national. The monies will be used to buy gift cards.
The raffle will take place on Thursday March 10th at Mammosers Tavern in Hamburg, NY at promptly 7pm. Best wings in Erie Co, for anyone who gives two wits. We hope to have a cute bartender to play along. If not, the venue may be subject to change.
The process will be as such:
Your name will be put on a two part ticket, and the number part will be placed into a blind receptacle. It is our most modestly priced receptacle. We will draw in the following order and I will update this thread:
Raffle Items:
1. Lovely Flies tied by Heero (Page 3) and 1 copy of Mexico Returns by Wooly Bugger won by Bruiser
2. 2 day guided float trip or walk/wade trip in Northern Michigan w/lodging option by DayTripper (Page 3) and 1 copy of Mexico Returns by Wooly Bugger won by Average Joe
3. 3 dozen steelhead flies in box by NCGuy (Page 4) and one copy of Mexico Returns by Wooly Bugger won by Flybug.pa
4. 3 weight combo raffled as 1 item WON by Wooly Bugger
- Lightly used 7'9" 3 pc 3 wt St Croix Legend with Unicorn Trout Sticker covering CE's name by CE (Page 4)
- DT 3wt line by CE (Page 5) (CE - you'll need to send the line to the winner)
- Fancy S curve reel for 3 wt setup by MaineDrifter (Page 5)
- 1 copy of Mexico Returns by Wooly Bugger
5. 1 Dozen Articulated Streamer 3-5" (You Choose) by Ginseng Sullivan (Page 5) and 1 copy of Mexico Returns by Wooly Bugger won by NCguy
6. Speyco 3 3/4" switch by MaineDrifter (Page 5) and 1 copy of Mexico Returns by Wooly Bugger won by Homer (GSs FIL)
7. Fly Tying Tool Caddy custom made by Bigguy (Page 5) won by befuddled
8. #1 hand pulled stone litho by SLSS won by overbrook
9. #2 hand pulled stone litho by SLSS (raffled individually) (Page 5) won by flatscaster
10. 1 hosted day for either a Western Stream or Posh Ski Resort by Fishskibum (Page 6) and 1 copy of Mexico Returns by Wooly Bugger won by ChaseChrome
11. Original pencil drawing of fly, PLUS original pencil drawing of your favorite fly (submit fly to BobWhite) by BobWhite (Pic pending) won by Bruiser
12. Black Hole Patagonia bag by Bruiser (Page 1) won by Austrotard
13. Fishpond Pack - Medium (Orvis XL) by West Jay (Page 7) won by Deadwestern
14. Albright 9' 5wt rod, with sick & tube, New by West Jay (Page 7) won by Average Joe
15. Rippin streamers and box by PBR (Page 8) won by SLSS
16. Lightly used Redington Predator 9'10wt 4pc with 11wt Rio Outbound Short by Cornholio (Page 8) won by Chase Chrome
17. BRFFF Dirty Dozen Swap Flies by Wooly Bugger & Co (Page 10) won by NCguy
18. Bad Ass Streamer Set with Cliff Box by PXATim, Freda, and Fly-chucked (Page 12) won by CarpeTructa
Witnesses for said drawing:
Ginseng Sullivan - accounting
BrookiesRule - supervisor
Skullion Childs - accounting
Glista - ticket tosser and puller
GenderNeutralFiberglassRyan (observer)
The list of folks who bought tickets:
PayPal
WB25
Catfish
BMCrappie Fryer
FredWeNeedToSeeMoreOfYouAroundThesePartsA
Zor
Bigguy
CarpeTructa
CharlieJenkem
Redfinder
Bruiser
Catfish
WestJay
CarefreeFriedChicken
BrentE
Easy Skankin
ElJeffe
PXA
Flatscaster
Pibbers
MaineDrifter
NCguy
ChaseChrome
Deadwestern
Chadroc
4eyed
Wooly Bugger
Fatman
Bobwhite
Dolomieu
Hog
Scully
CE
Mitch
Overbrook
SLSS
HPFF
Franny's MIL
Speybait
Befuddled
Jerms
Cash:
Homer
Heero
Jose
Flybug
Gankadank
BrookiesRule