[report]
For me, fishing has always been about exploration. Whether it's behind the mall or in a far off country, there is always new water to see, more fish to catch. I feel like there is a lot of the same old bullshit we are exposed to in fishing, be it from the media or our close fishing friends. It's easy to get stuck in the rut and do the same shit that everyone else does day in and day out. It takes more effort to seek out new things that you don't know anything about. New places. New fish. Sometimes you are rewarded, sometimes not, but it is always worth trying.
I have a thing for natives. Where I live, there is a native fish that I've only seen in formaldehyde jars. Before the white man, these fish grew to 6 ft long and 80 lbs. That's a big fucking fish for a Rocky Mountain river. Populations are struggling now, but they do still exist. Now would be a good time for you to google Colorado Pikeminnow. I'll wait.
...
Before you PNW guys roll your eyes, this ain't your pikeminnow. It's a different one. Way bigger. Henceforth I will refer to them as squawfish. While it is a very un-PC term, it is my nomenclature of choice. Don't like it? Fuck off. Squawfish.
I've had squawfish on the brain for many years, and it started to get more serious. I did my due diligence and narrowed down the time and place for what I thought would give me the least slim chance of squeezing one of these things. Fittingly, the place happened to be on a legendary and very scenic stretch of western river that requires a multi-day float with plenty of good whitewater. Fuck yeah. Over the better part of a year the team was assembled and the logistics were logistified. The crew: Bruiser, Hogleg, Get Er Done, Fishskibum, moi, and lurkers Spaceshiptraveler and Batboy. Our launch date crept closer, and on the day I departed my house it didn't seem real.
I had spent hours meticulously planning my tactical packing system.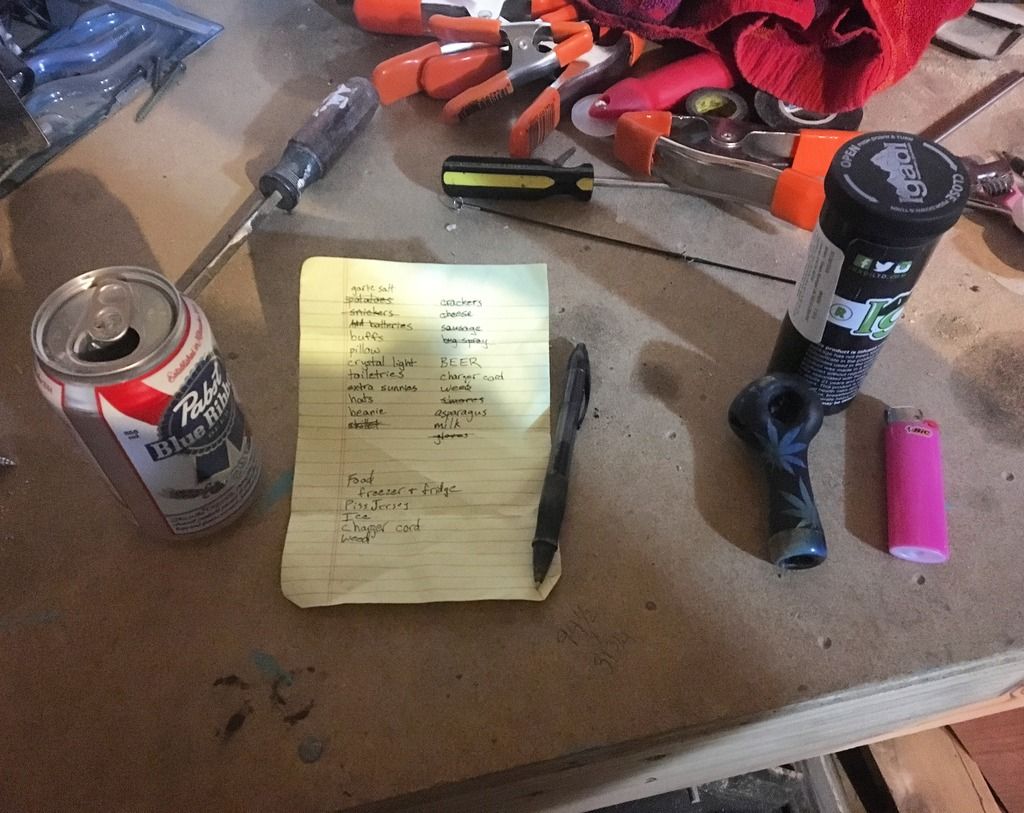 Seriously though, you should see Hog's spreadsheets. He's got shit down the 1/4 oz of Astroglide.
The gear pile in my garage slowly grew.
Can't forget my trusty cowboy hat. In addition to being a huge fly fisherman, I'm also a huge cowboy. You can tell because I have the hat. I should probably get some kind of cowboy hat rack for my car, just so everyone knows.
On the appointed day, the eastern team assembled at checkpoint Hogleg for the Great Gear Shakedown. We wired our shit tight.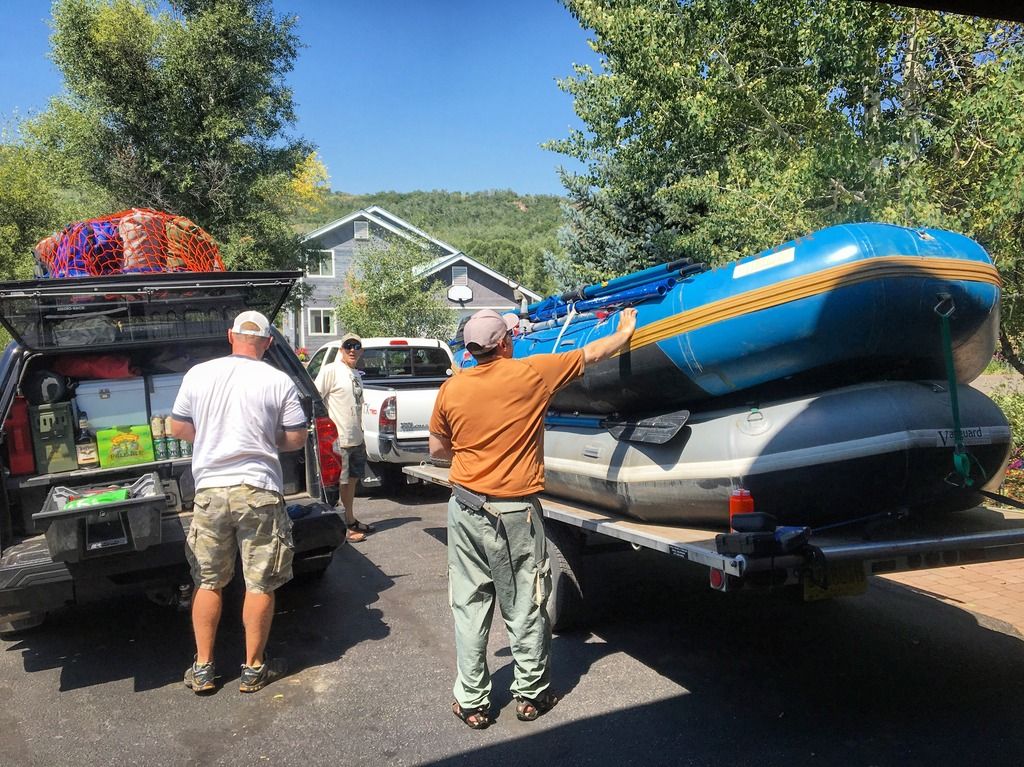 We motored into camp at the put in and met with the western team, FSB and SST. Camp chilling commenced.
Next morning was the day of launch. We still had lots of gear sorting to do. FSB did his explosion in the middle of camp. Most of you have not met Dibs. As you may have inferred, he is an incredible dichotomy of a dialed-in shitshow. He's got everything he needs, all kinds of useless shit, and will surprise you with treats and goodies that you didn't know would come in so handy. Grade-A team mate.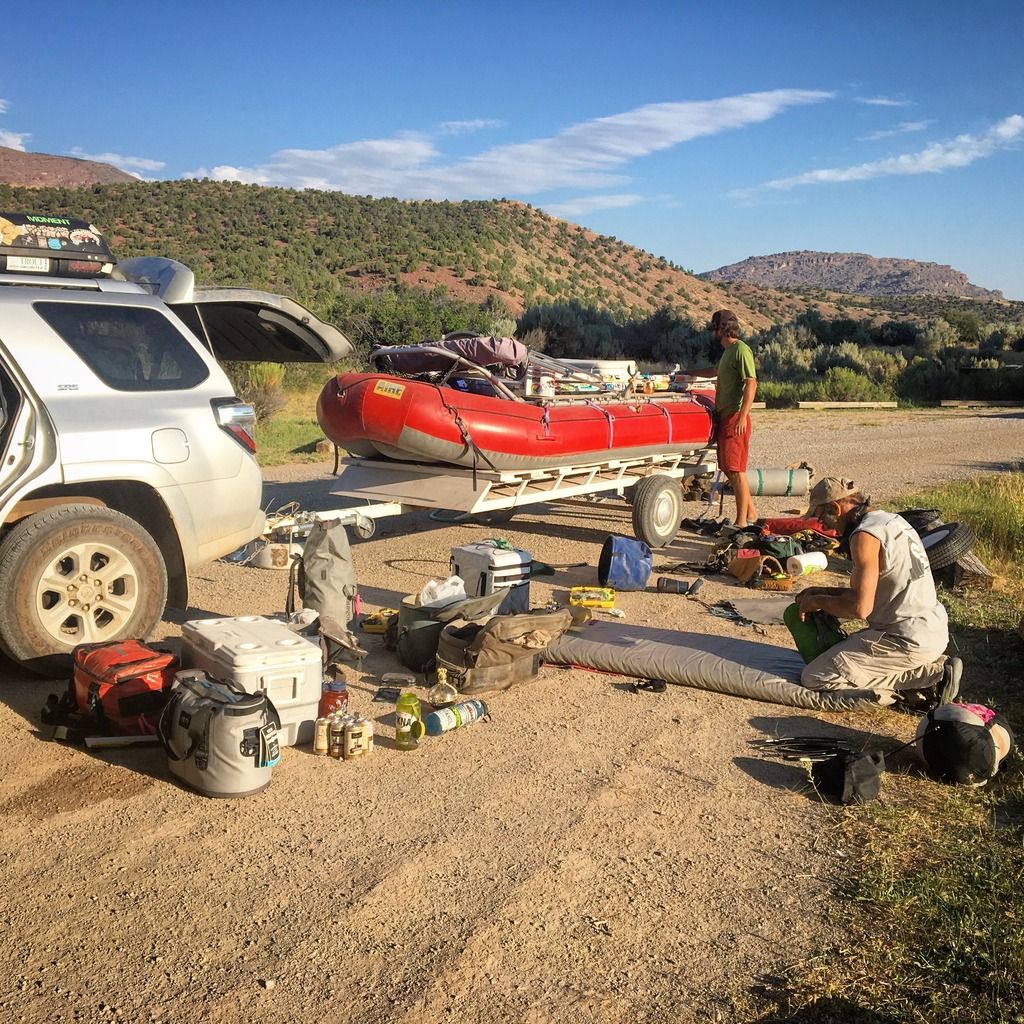 We got all of our gear down to the river for inspection. Shout out to NPS Ranger Greg Terry, who made our check-in process smoother than GED's metrosexual balls. Pro-tip: don't ride on the trailer in the campground. They don't like that, but Greg was cool about it.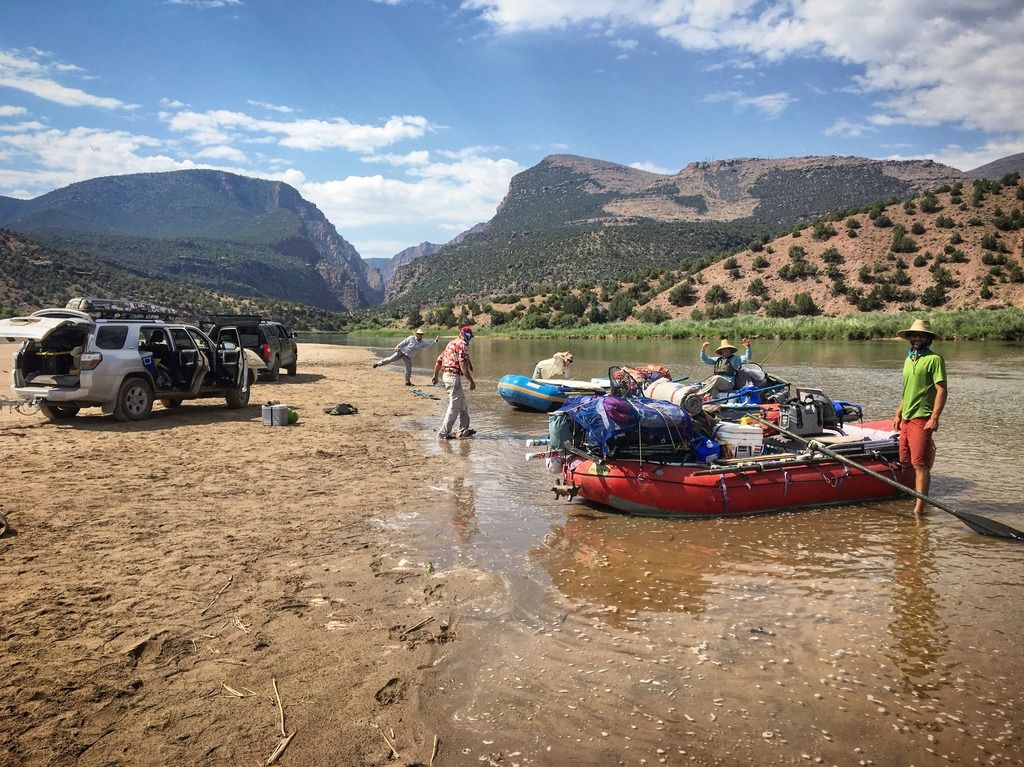 As quickly as we could, we set off for 4 days of goofing off and chasing a dream.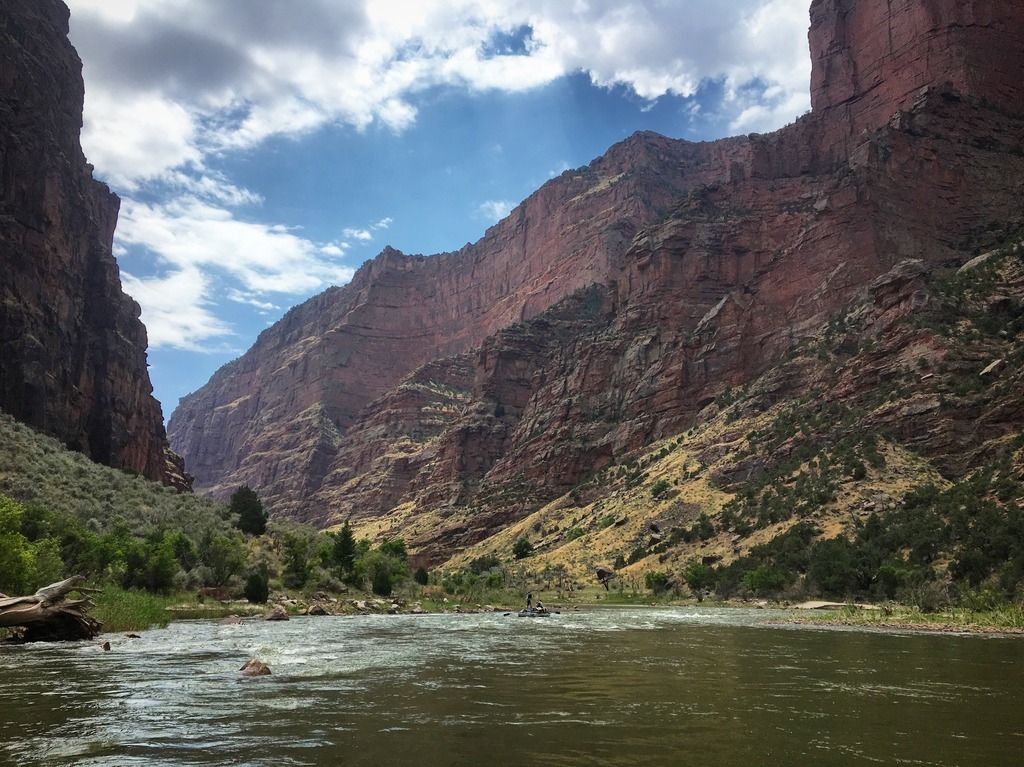 Bruiser saw a squawfish early on, which gave me hope, but the fishing was slow. We knew it would be slow. There is a reason this piece of water is not known as a fishing float. But still, we had hope. We picked up a few trout. We ran one of the bigger rapids without scouting. Camp the first night gave us some good wade fishing. I cooked meat and drank too many margaritas. The trout bugs came to our lights.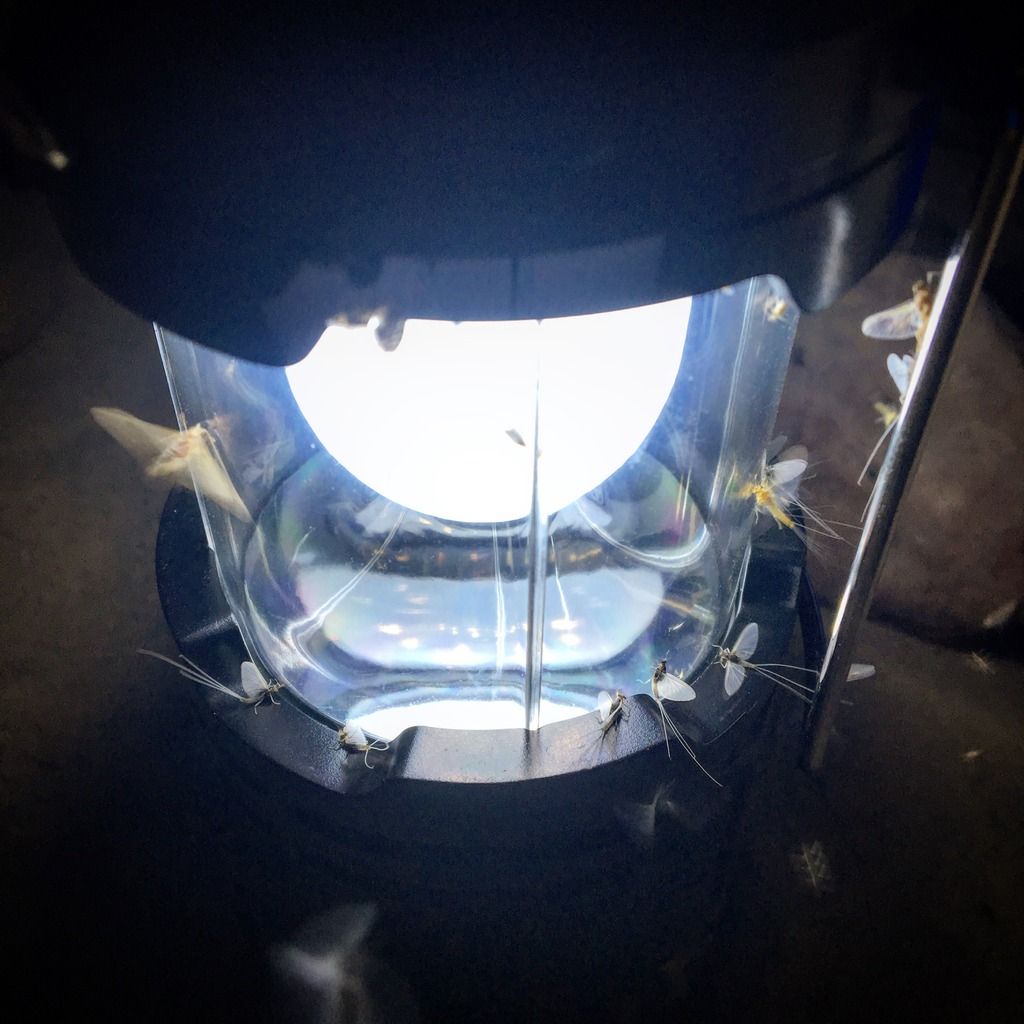 Day 2 dawned with optimism. We were deep down in a beautiful canyon, the group dynamic was strong, we had plenty of ice, beer, and weed, and we had caught some fish.
We stopped to wade fish and Bruiser found a dead squawfish. I ran over because I wanted to see one.
It was a whitefish.
We played in some smaller rapids.
We caught some more trout on day 2. GED got his first brown trout, 23 fucking inches. They're all that big, right?
We ran some bigger rapids with no trouble. I'll take this moment to pat the other boat captains on the back. Good job keeping the dry side up, boys.
We rolled into camp and GED contemplated what the fuck he was doing so far from home and questioning whether squawfish were a real thing or just something I made up.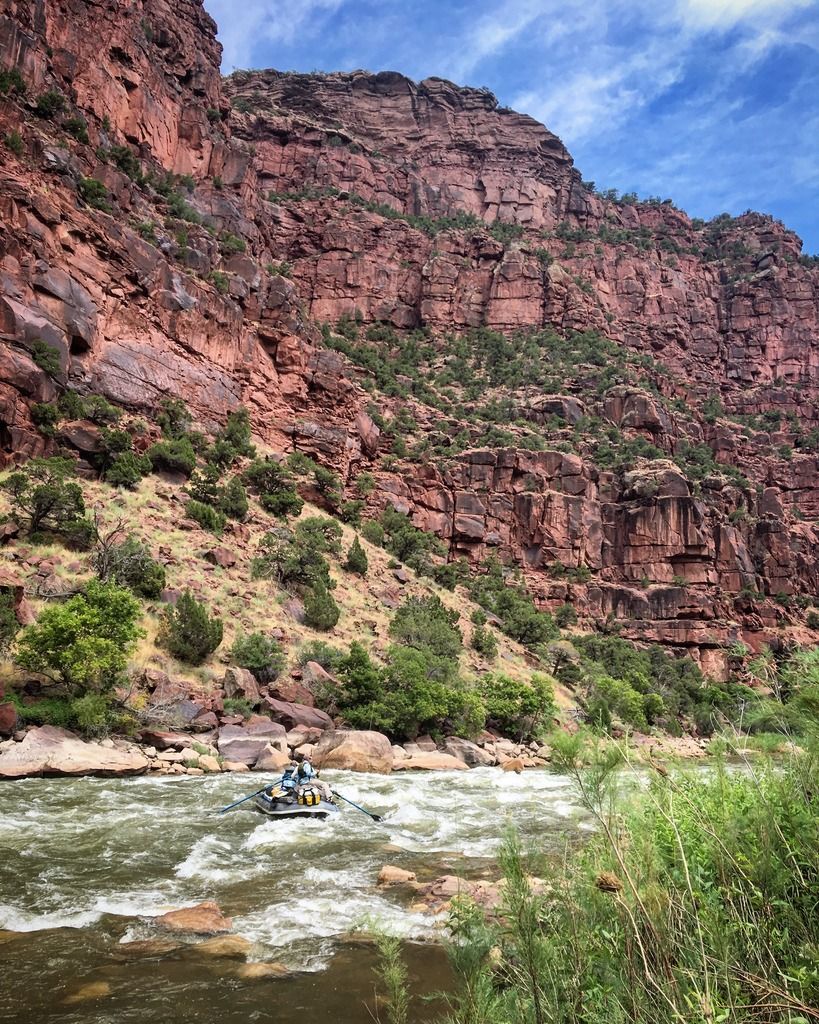 Safety meetings, SUP shenanigans, and camp straight chillin'.
I think I'm starting to get my days mixed up now, as tends to happen with the detached reality of a river trip. Somewhere along the way, I came across this dead bat. Batboy remarked that it looked like the Bacardi bat.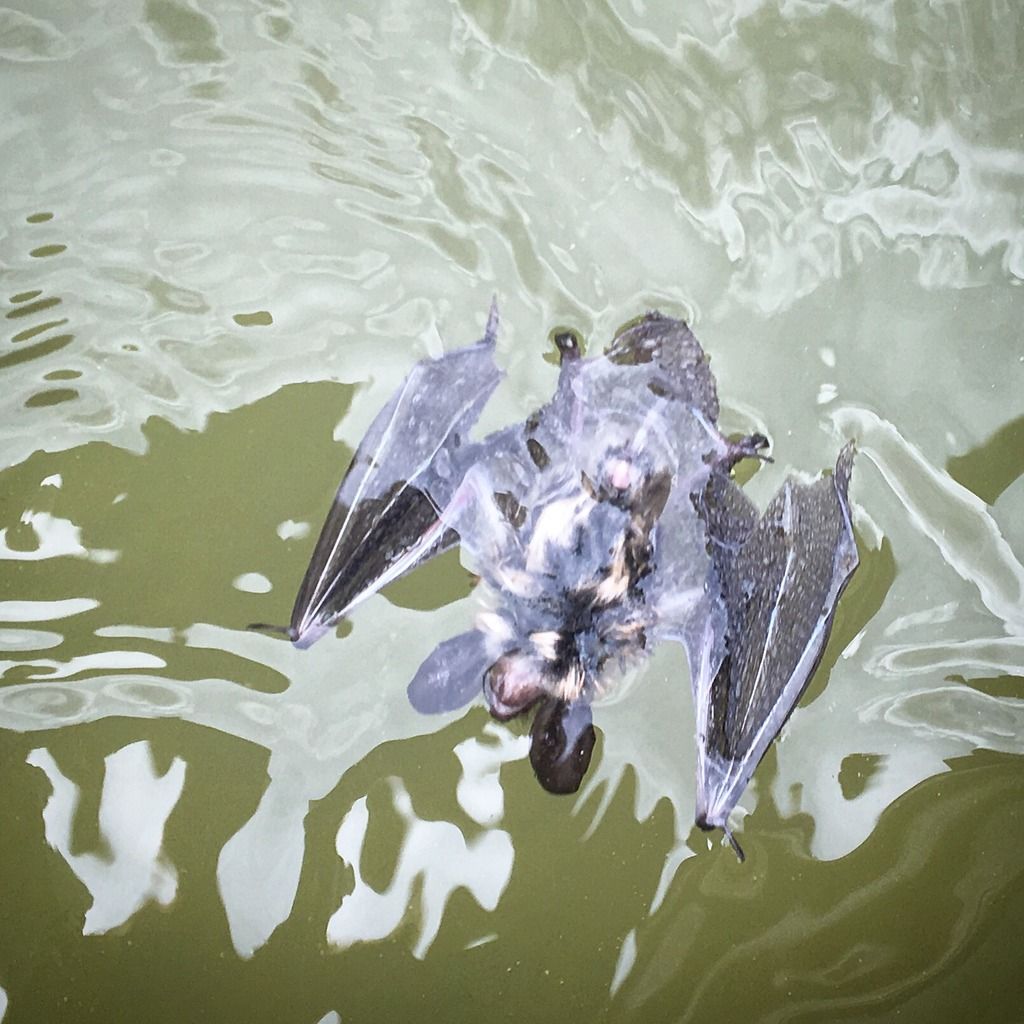 As we got into camp on the 3rd night, we were standing under a tree discussing where to set up our kitchen. A moth was flying in between us, and landed on Batboy. Right on his fucking neck. He didn't notice at first. It was a bat. GED says, "Dude, there's a bat on your neck." Thus commenced much swatting and girlish screaming by grown men as the bat repeatedly dive bombed and attacked us. I was glad I had my cowboy hat to protect me. This was at 3pm in bright sunlight. Rabies, much?
Well, that was fun. After another glorious night amongst the skunks, deer, and winged rodents, we had an early departure the next day. Had to cover 19 miles.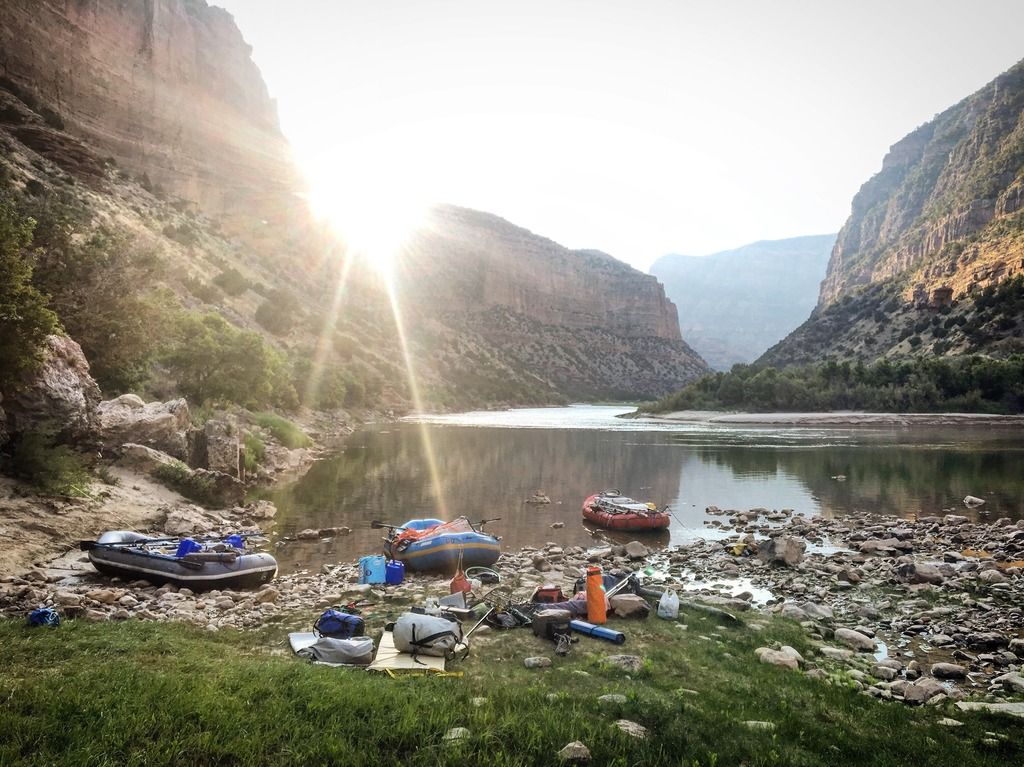 We goofed and ogled our way down the river. The fishing had been slow overall, we hadn't sniffed any sqauwfish. It became overly clear that we were barking up the wrong tree. We bumped into a sampling crew, and when I questioned them about squawfish they basically laughed at me. No one really gave a shit about fishing any more. Well, except for Bruiser.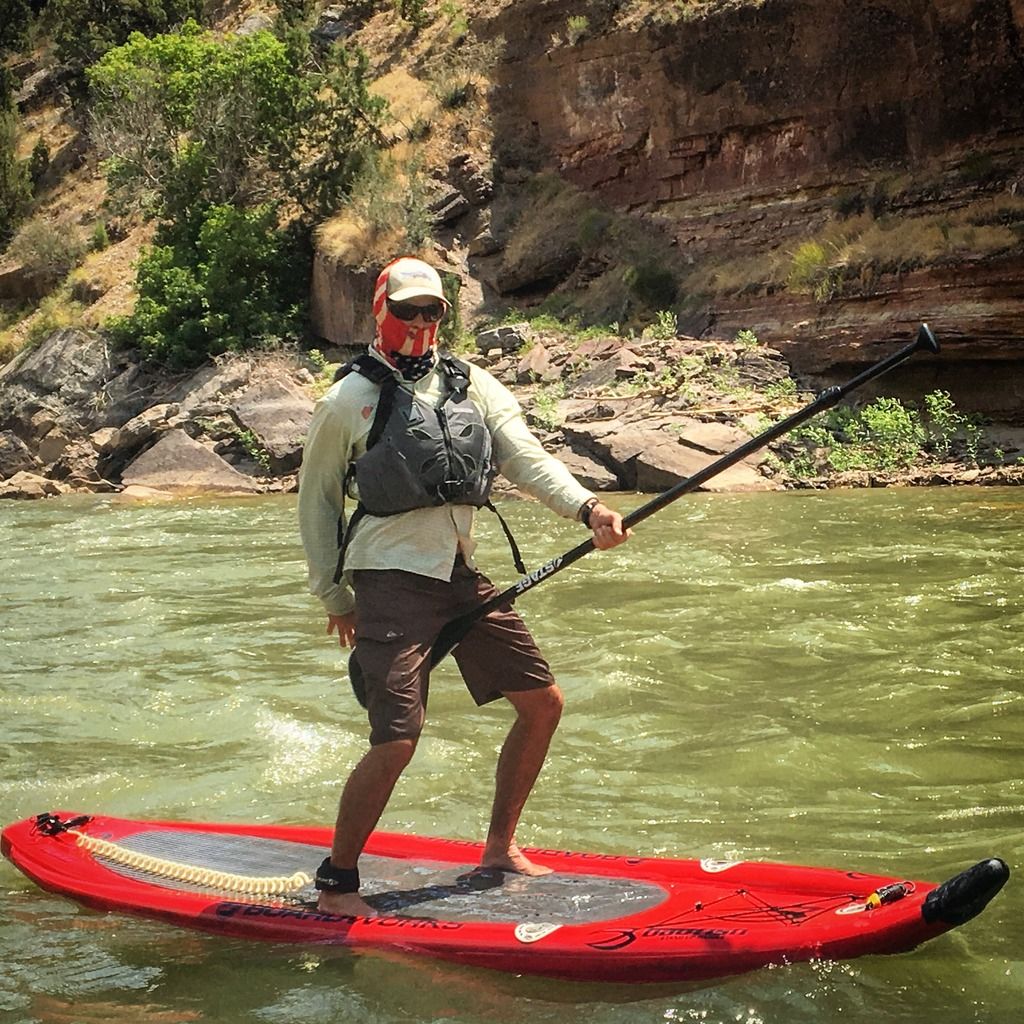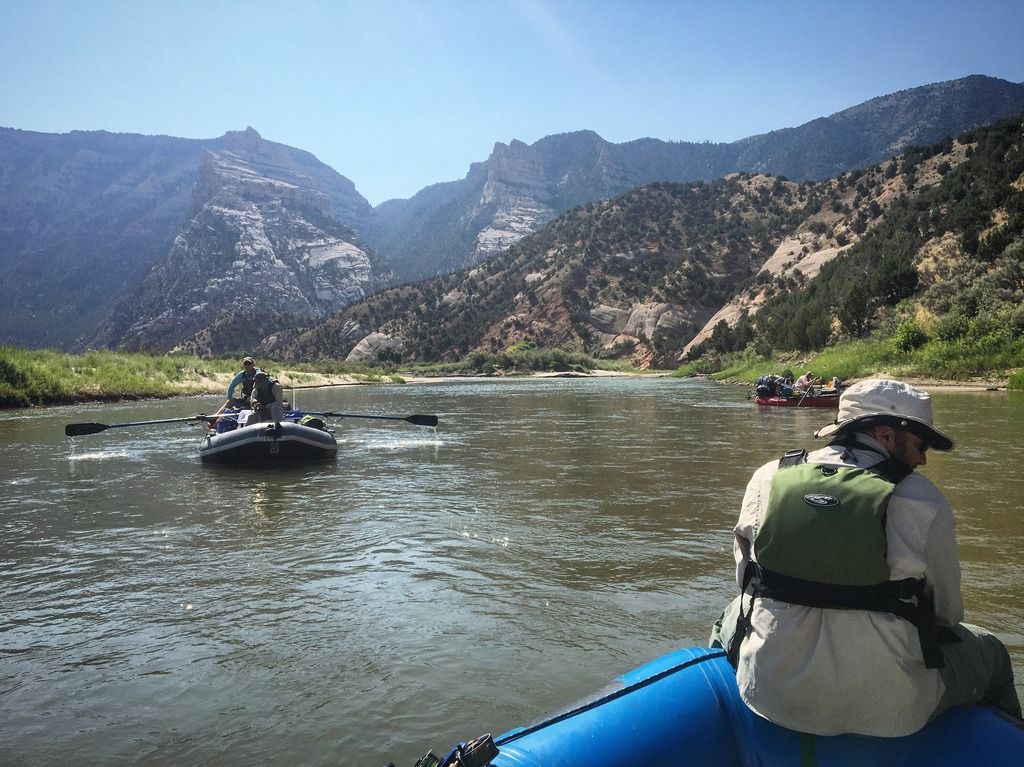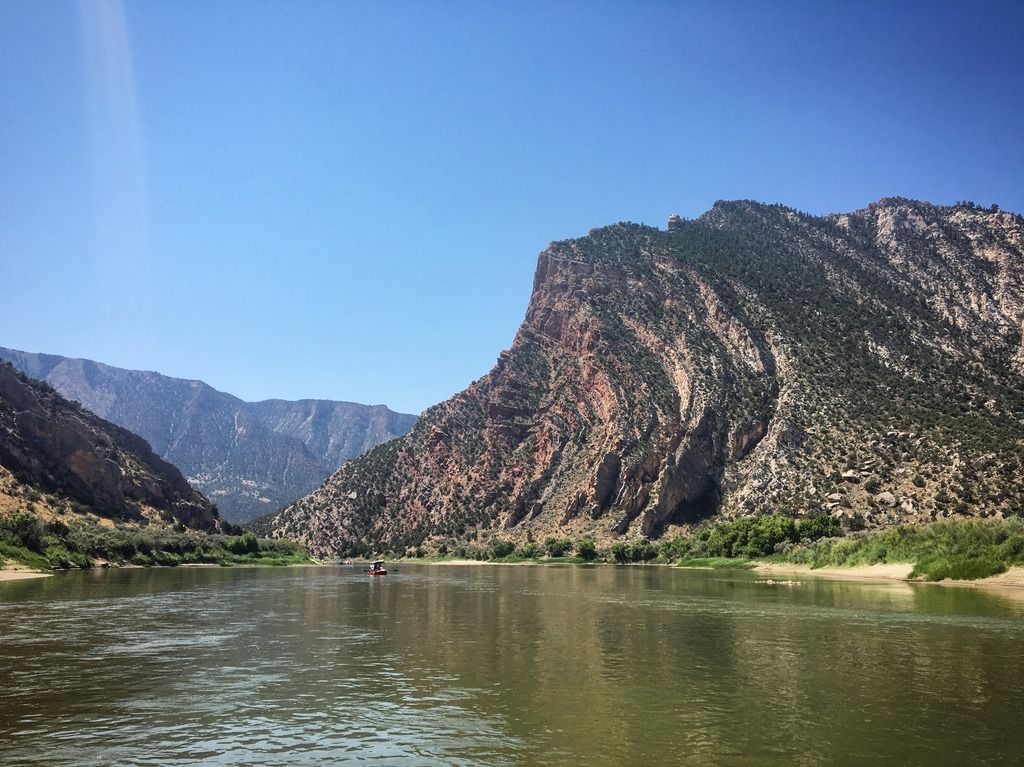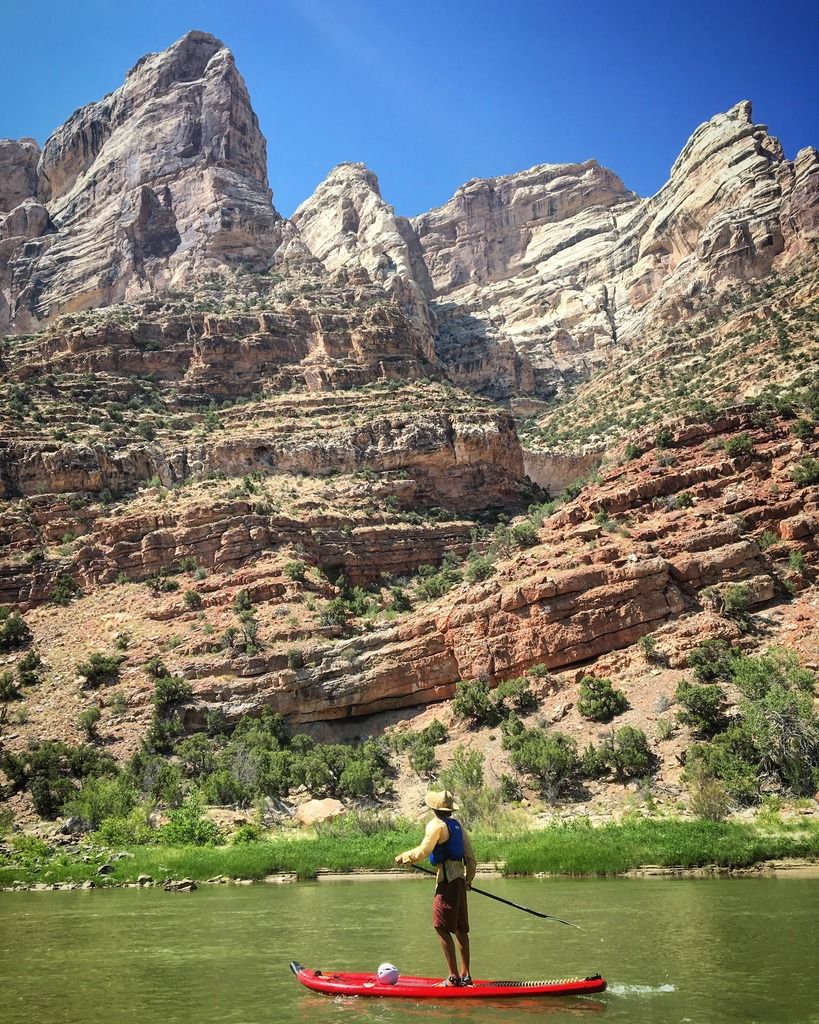 And then, the inevitable. We hit the takeout.
After 40 miles, we finally saw a squawfish!
That's a life-size model, BTW.
Fucking bastards.
We said our sad good byes to FSB and SST (rad dude).
Did some light trailer maintenance in a parking lot.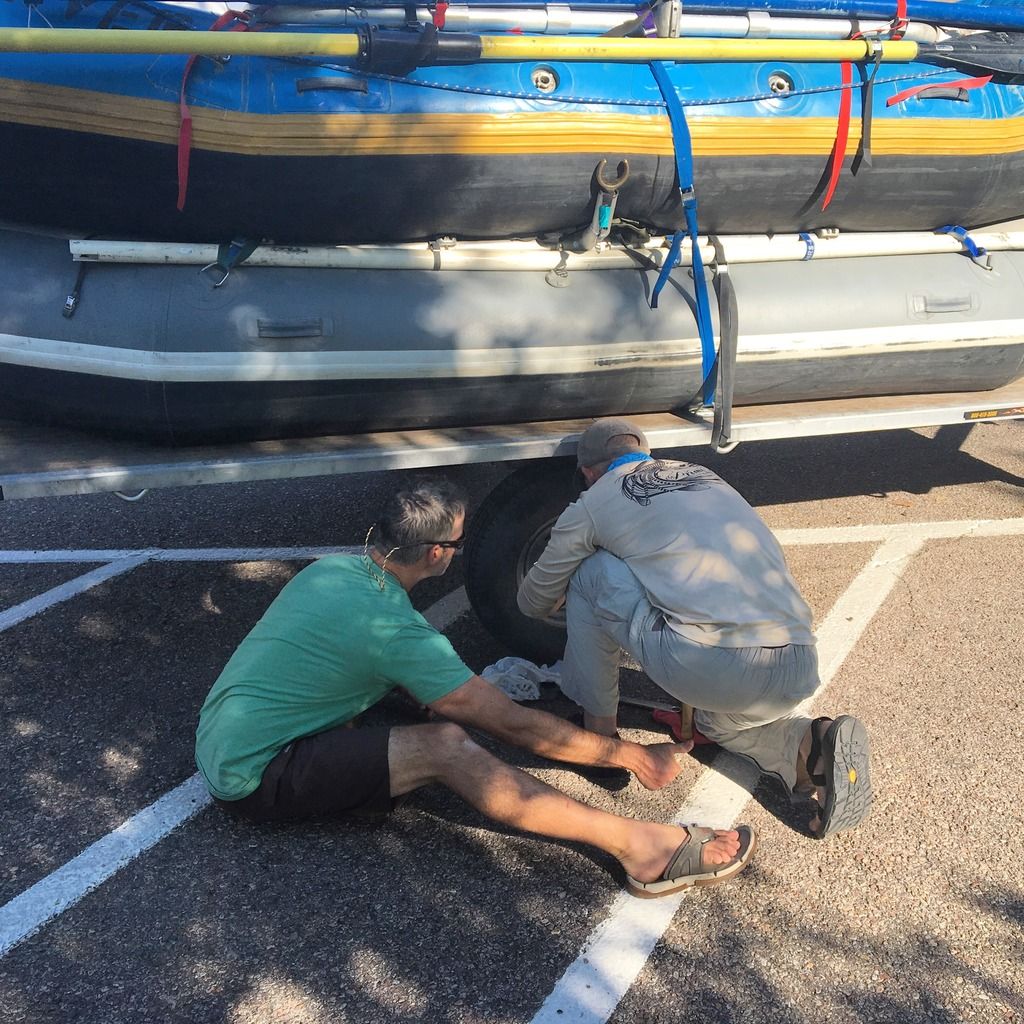 After dark, we gear de-exploded at Hog's and parted ways. It's always weird saying good bye to friends after sharing these kind of experiences. But, we just do it. Shake hands, look each other in the eye, and say "fuck yeah," because you know you'll do this again someday.
That, and we're not women.
I was on groover duty the whole trip, so I thought I'd let the boys share in the experience when I cleaned it out the next day.
All part of the trip, right?
Randall, before you pipe up, yes I know the groover should not be laying on it's side. I turned it over for proper pumpage.
Along those lines, guys please withhold your PMs with anecdotal evidence of how your buddy's cousin caught a squawfish one time. That includes the reports about the Summer of Stones locale. Save it. I've heard it all. I've researched this to death.
These fish don't exist, but I will catch one some day. I hope the team is along for the ride when that happens. You guys deserve it. Thanks for helping me try.[/report]