wurd to all the northwest homies in hur thee and bacon put me proper to this forum a bit ago. i done just went through the longest non-fishi
spell in my flyfishin life. i didnt touch a rod the whole month of august and 1/2 of september. i didnt have any fishin to write about. i thought about tellin yall about some vampire slayings i did recently but i dont think your hippie virgin ears are ready for tragic,greusome and heroic stories of me saving the world. again. besides this is a porn/flyfishing forum. i was tryin to leave my day job outta it. (or night job as is happens to be). flash to last night.8:30pm a call comes in. awww snap its the red phone. grab wooden stake, garlic, elephant thong and extra socks (for the after party and incase my socks get rocked off. 8:35pm out the door. pulse? steady. this is not my 1st poker hand. although every hands a gamble, intuition, training, and experience has learned me to know when to hold em and know went to fold em.
n 9:15pm i meet up with the crocet brothers. premere authorities on vampire lore, salmon on a fly, and cuddling. but dont let the cuddling part fool you. these guy are tough and like their bitches like they like there fly rods. fast and at a discount price.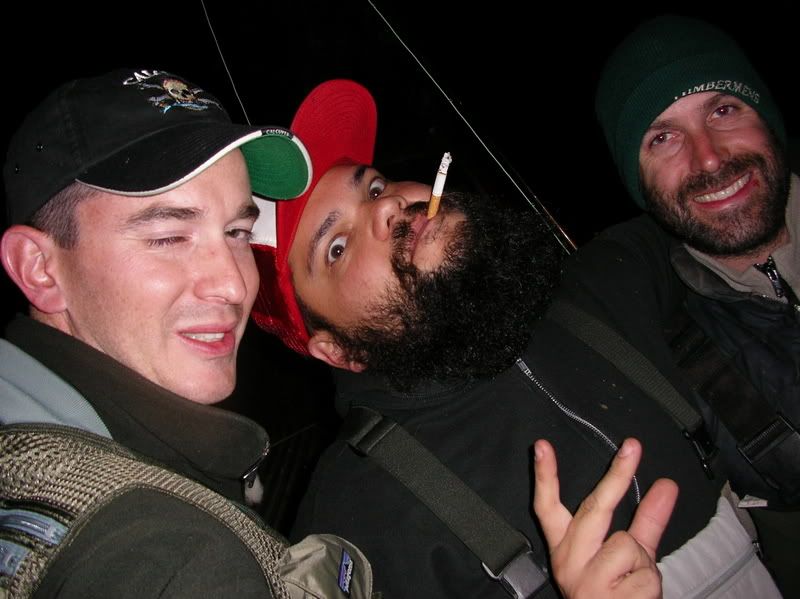 9:16 my eagal sharp eyes spy that something is off as my intuition alarm rings in my head like a dinner buffet bell at a jenny craigs work ranch. the crocet brothers are wearing waders at 9 pm? i think to myself, [/img] guess tonight is gonna be one of those nights. waist deep in the undeads blood, i hope the after party has more bitches this time. this elephant thong is riding up."9:20 fly rods loading into my truck. this could mean 2 things. n 1. they are suprising me and we are going fishing in the dark. n 2. they are drunk againn as it happened to be it was both.9:30 their kitchen table. we tie up a dozen black rabbit hot cone head leaches. size 210:30 hit the water. justin crocet has been telling me storyies about the night bite. i figure the day i show up it will be one of those "shoulda been here yesterday. im a fucking asshole and should burn in hell. all week was hot. i got 10 last night." but this guy is one of the best flyfishermen i know of. he is what we call in the slayer world "a fuckin badass". at one point he had 4 kings on 4 casts.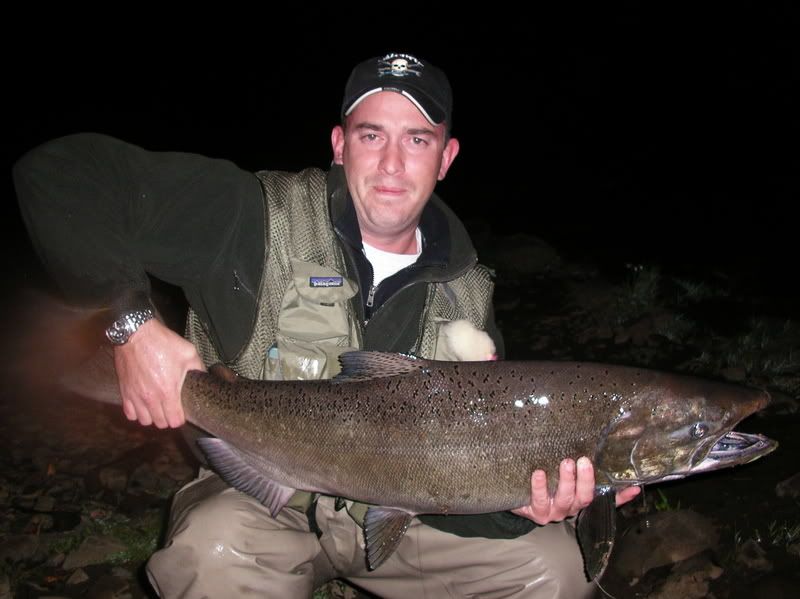 n there were a few other flyfishermen there through the night and no one could belive his bite rate. a pure flyfishin genious. he had this place dailed. we didnt even count the fish we got that night. big ups to him. 11:ish it had been a month and 1/2 since i had a fish on i didnt care that this guys was dark. or maybe he was just a huge searun brown?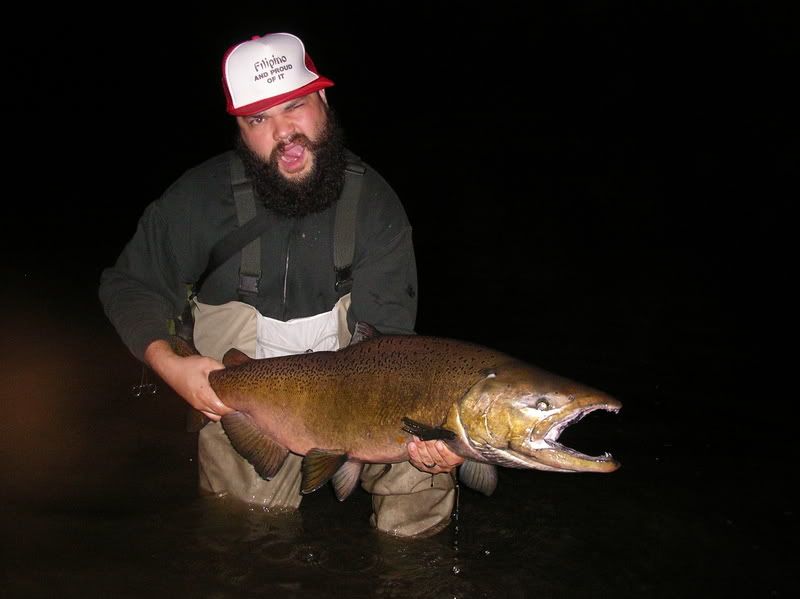 11:ish beer and ciggy after i practiced a bit of fillet and release on this guy. and i practiced my vampslayer glare. lock up your ladies. fuckin thug fo life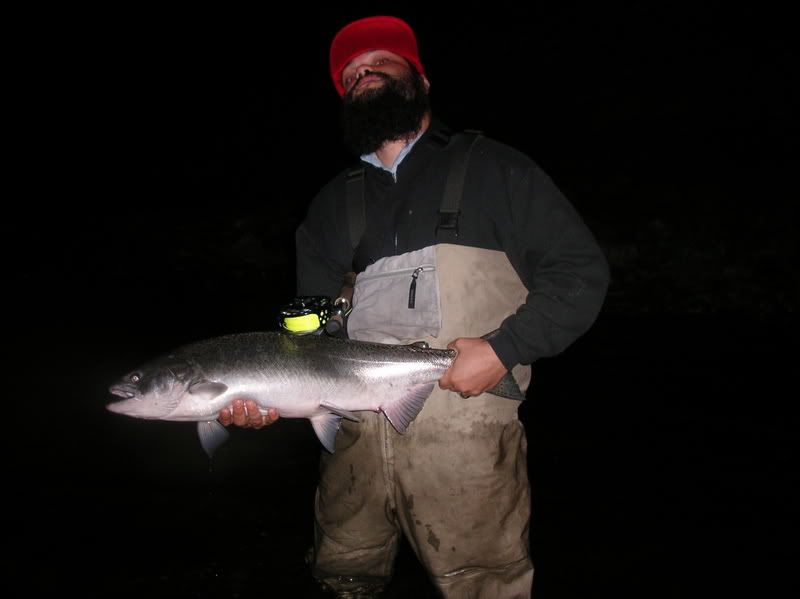 1 or 2am jeff crocet, one of my main homies gets into a steelhead. poor dude has to work at 6:30 am. that will do pig.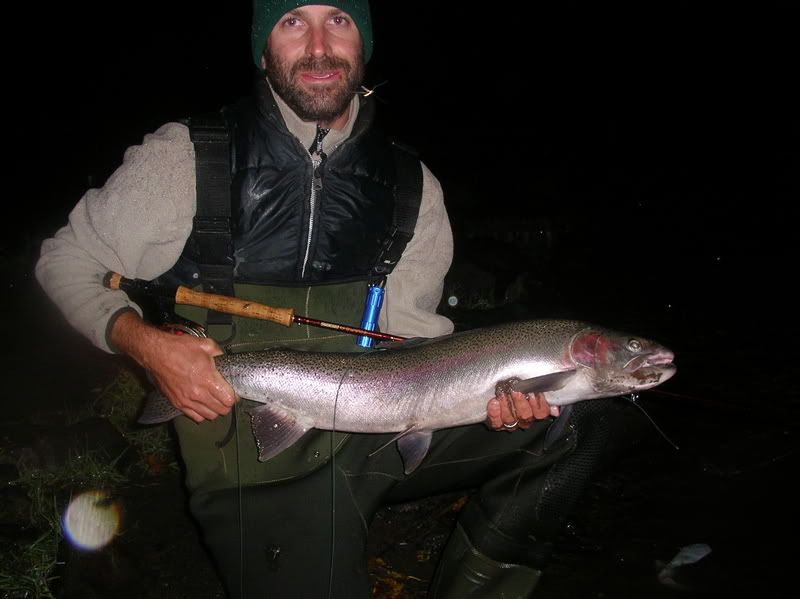 3:30am call it a night, pick up beer cans, drop beer cans, pick up beer cans, ect.4:30am i get picked off by the fucking fuzz! $244 ticket,(work zone) if that pig gets bit ima love steaking him.(i guess he was just doing his job. but if he turns i will just be diong mine.)6:00am sleepy time. thee trouthole. its rough in my world. if i dont make it, tell my babies momma i love her.
<small>[ September 20, 2006, 12:24 AM: Message edited by: jayj ]</small>