By
chadroc
- Fri Jul 27, 2018 10:59 am
- Fri Jul 27, 2018 10:59 am
#688859
my wife's family rented a house on the ocean last week. friends had always told me to get in the salt. i never did, but knew i had to eventually. i live too close to it not to find the time. the salt seemed intimidating to me. i always fished to structures i could see and to fish i understood a bit: a riffle or deep cut bank, a dead hole below a bridge, a stand of cat tails, the deep edge of lily pads, a rock pile.
the ocean, so vast and deep, felt out of my little realm. tides, times, prevalence of bait, wind direction, moon phase......so much to consider.
i had to work the first three days of last week's trip, thank god for wireless internet and dunkin donuts ice coffee. curse not being independently wealthy. thursday was to be my chance...
my friend sent me some pin drops. another friend sent me some flies. go try, they said. maybe as i get older i find i am more willing to do a bit more exploring and take a solid skunking chocked up to the learning curve. maybe i'm not afraid to try anymore. worst that can happen is a big fat zero and a fine walk out of doors. far far worse has indeed happened to me. maybe i don't mind not catching fish anymore. maybe a number of things.
maybe i'm just awake a 330am in a strange place that isn't my home quietly telling my children to go back to sleep and stop the stirring and giggling. it is still night outside, i tell them. lay back down. my hand on his chest, the other rubbing her tiny foot. their skins exposed in the pale darklight now look summer kissed and deeply tanned, in what light spills in through the cracked door and what is given by the waxing moon.
when they grow quiet again, i creep back out. and i am not tired at all. there is a rod rigged. the pin to follow on the super phone, several decievers and clousers in a fly box. hopefully, some forlorn gas station open at this hour to serve me piss poor gas station coffee. so i went.
the empty beach roads, the song above playing, no coffee, no matter. there is truly something special about being out in the field before sunrise. it was a wonderful, quiet drive to the beach.
i walked long and slow down the beach and then when i turned around i got an idea how long and slow i walked. i still didn't know where to cast or what to do but it was time to start looking closer at the water. and as i did so i noticed two seal heads poking out of the briny surf a hundred and twenty feet out. and then i noticed three birds flying around. and then i saw the alt riseforms dimpling the surface of the atlantic ocean.
there was the rumor of day grown stronger on the rim of the land, and the rumor of fish close at hand. in short order i got a strip set into one of these fish and it wasn't them that was hooked. as the fish would run a last time in close to my feet the rain bait would scatter and flash in the shallows. it was just amazing to me.
i won't say it was every cast, but it was many of the casts that came tight to fish. and as the hushed sound of waves lapping grew and the light of the sun came higher i had me a helluva time catching schoolies.
when it would slow down, i'd have to actually look around. the seal heads have moved down the beach. the birds with them. thus so did i. i saw 2 vultures. i smelled something dank and foul. i found a chewed to hell seal corpse.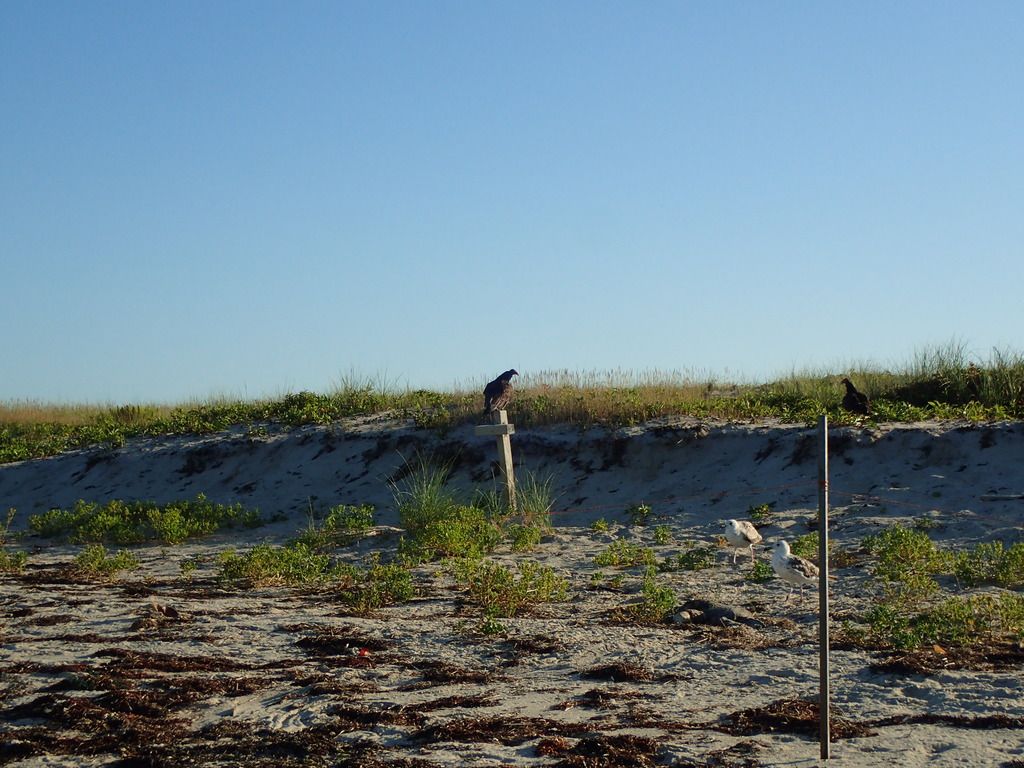 i thought of bigger predators. i wondered when one fish took the streamer and choked it......
by and by i found i was a bit satiated and i sat down on a piece of driftwood and just sat there for a while. with no coffee. it was the only thing missing. a delicious cold dunkin iced. but i was so satisfied and had caught just a shit load of striped bass. i smoked a pipe and noticed that the 2 seal heads had disappeared. i saw nervous water coming from my right. not the school of bass. 30' off shore came the dark form of a hunting fish. i stood up and watched as the unmistakable form of a serpentine shark swam by me. i had never seen or felt anything quite like that moment.
the place is like a safari. so much life teeming in the sea. everything hunting something else:
a piece of crab-ass
a fiddler crab
a dead bird skull
i walked the marsh back to the company car, and headed back to our temporary home in a weird strung out not tired at all but deeply hooked state. i did want coffee.......
but i stopped and crossed back over to the sea side to catch a few more.
i swam in the ocean and then went back to the family. how was the fishing daddy? they asked. it was so good. i said.
we did the vacation thing for the rest of the day. i ate a fat lunch.
i did the exact same thing the next morning. though i found an open dunkin on the way out.
there were still a buncha fish in the area, though less alt rise forms going off. halfway through my binge down the beach i about faced and went back to grab my kids. i put my son onto his first striped bass. he got his at 6, i got mine at 42.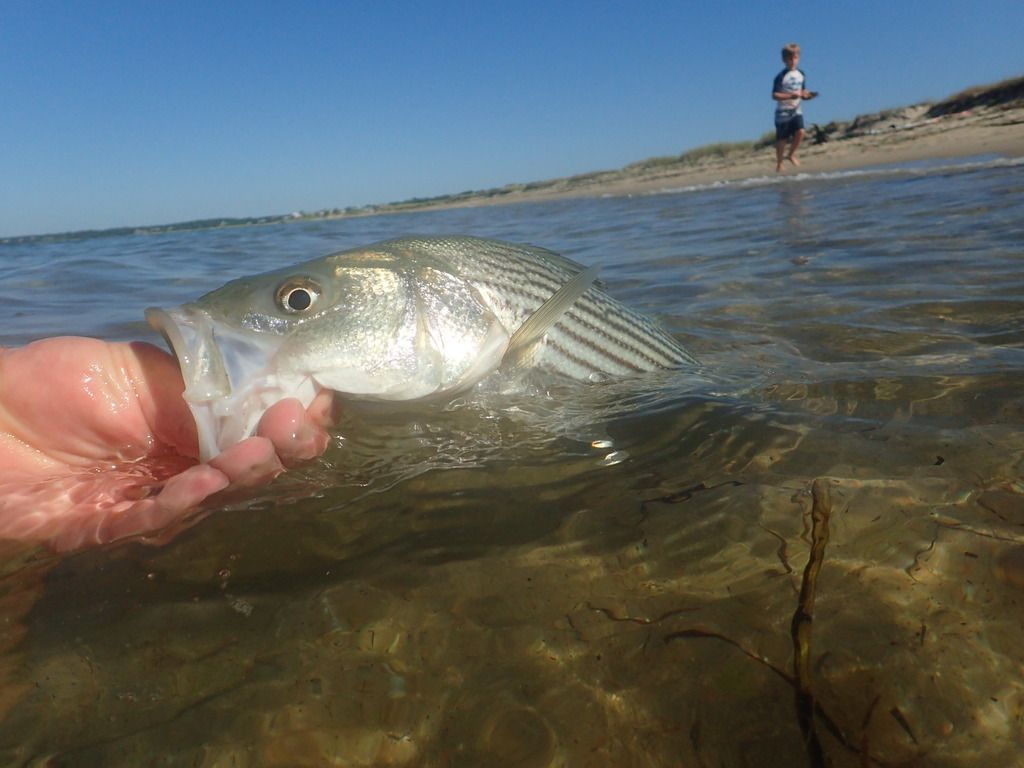 ended up hooked deep, salty as fuck, hungry and with a bassfuckedthumb. i'll be back for bigger fish as soon as this crappy weather pattern pulls off and the swamp that is new england settles back down and the tides rise.
i woke up this morning at 339am from a dream of the sea. i felt the undulations of the waves, and smelled the salt air. it wasn't really there but it will be again soon. i made coffee and went through pictures. that's all i got. all the best, fellas.
Last edited by
chadroc
on Fri Jun 26, 2020 6:15 am, edited 2 times in total.
holding it down on the other side of the border

enjoy your catch (it died)