some of you may know that i fish pike locally. i love them. i ice fish them. i fish them with a fly rod. i started and i didn't know shit about shit. i had some tough losses, some great and terrible. i never got it really, didn't have a boat other than my canoe. couldn't cast well enough. had bullshit flies. tried for about a decade, on and off. got into the ice, hardlife and downflag. found predators. needed them on a fly rod. gotta reddington predator. tried a bit harder. planned for a wisco trip, zero to hero and all that shit. saved up cash.
this was 2016. i was a father, had young kids, had a hole to fill. tell ya that much. reached out through this shithole to brad. why not, right? small time kid, big time fella. he hit me back, and i found him welcoming and knowledgable. but moreso than that, supportive. i planned a stay with him that summer. sent him a deposit. wasn't anywhere near ready.
the chimney linings went, as did the company car. i had bills to pay and thought about the cost of flights and undoubtedly the heavy, heavy expenses incurred of living right as some pilgrim in a foreign land. i cancelled on him, and it busted my heart. but i had to do what i had to do. so i did it. i told him to keep my deposit and i'd be back. i just wanted to fish with brad. i had a feeling we'd like one another. i'm a small time guy, i ain't into the petty stuff. i wanted to get in and get close to a fish, fuck catching one. i knew he could get me a shot. that was all i was going to ask for.
brad says to me, how do you not know pogo? or something like that. the fuck is pogo i asked? he's a kid from ct and a regular up here. he's a good stick, reach out to him. he's in your fucking state, which is a small state. a year passed, i checked pogo out occasionally and when he opened up guiding for pike here in new england i was proud of him, taking that big step for a passion. i know its a hard life. i can tell. have seen it in guides i never could afford to fish with. but steve. he was living right, i could tell. i reached out and we started fishing.
steve got put on by brad, and steve put me on. i was practicing for wisco and a place i'd long looked on, al and ron linder trolling up those fucking monsters. those kids up in canada. jesus, i would think.
our fish aren't as big, but i felt that i was catching on. i learned to eight. i saw a big girl below it, it didn't bite. no occular violence. i finally got some fish. and these fish were truly inspiring to me. i was truthfully building up to fishing wisco. i had a trip planned. so steve hooked me up, he saw i needed some practice. i am not a good fisherman. i try hard, i get it done moreso with grit than with any skills. and i freely admit that.
so steve and i fished, and talked and got to know one another. first time out alone and we didn't catch shit. but it was nice to let him bomb some casts, i liked watching him cast when he'd get up first from a gentlemans break. he's a special person, he has tremendous passion and energy. i got fired up to see him, made some sweet drives up to the foothills of the berkshires to see him. and he put me on my first pike. it was a sick feeling and it was a stupid hammer handle. i was out with steve and another real solid friend. you get such good friends fishing.
we told that rainstorm to fuck off, kept chucking.
i was glad to know steve. he was a good shit. built a backyard archery range for my son out of local grassroots protest flotsam and jetsam.
got right the fuck back out there. with steve.
and this gear chucking hill billy.
caught a dope ass clam.
finally got one!
and another. this fish's take was the stuff of the rings. this fish fucked me with that take. occular violence.
we celebrated. ate a nice clean chicken wrap. had some special butter on the side. hands down the dopest local soda you ever tasted outside of paul walls exotic pop fridge down in houston.
peep my pricey shades. i always try to bring a decent snack for a guide. it feels good to give back more than money to folks sharing with me. i know this is a debate that tranny may molest me in. its all good. see also:
he saved my life ya know. thirty years ago. i was knifed at a bizarre in calcutta, and he carried me to the hospital on his back.
who stabbed you?
he did. there was a price on my head, and he was a hired assassin. stuck me in the gut with a shiv.
i was satisfied to watch scott, he put down the swimbait rod and picked up the two hander.....he is a wonderful human being, he was trying to learn some opst head shit for his regular trips to some waters far north of us. where he finds his rings.
he's caught a million fish, a million ways, he didn't really give a fuck to catch and missed a fish on his first cast with a spinner bait. he goes, they got pickerel in here? nope. didn't see a sniff rest of the day. and i was glad he was able to see me land a couple pikes. he's a good solid man of my fathers generation. the type of man my dad would have said he liked the cut of his jib. pogo is the same. a really good person.
my man holding it down in the trenches, suckless.
stuck my lucky fly in the wood. aw fuck. 9' down. i had to do what i had to do. how cold was it? scott asked. cold. i said.
really memorable times. really fun, that fellowship.
really pretty water.
jet, so so dope.
kicking back and happy.
pogo gets to keep hands on this motherfucker until 12/31/18 - and i know he's gonna stick a fish on it when he's out in wisco. i just know it. but if that punk bitch hangs it up, he damn well be going down for it.
this place sucks. fuck off, we're full. i don't think i've listened to much WSP.
got home mad late.
undertook a creative endeavor. sold all 101 copies. parr marks, motherfucker. manned up, done give a readin. i could read real good. was special. kids danced with me to the song in story 19.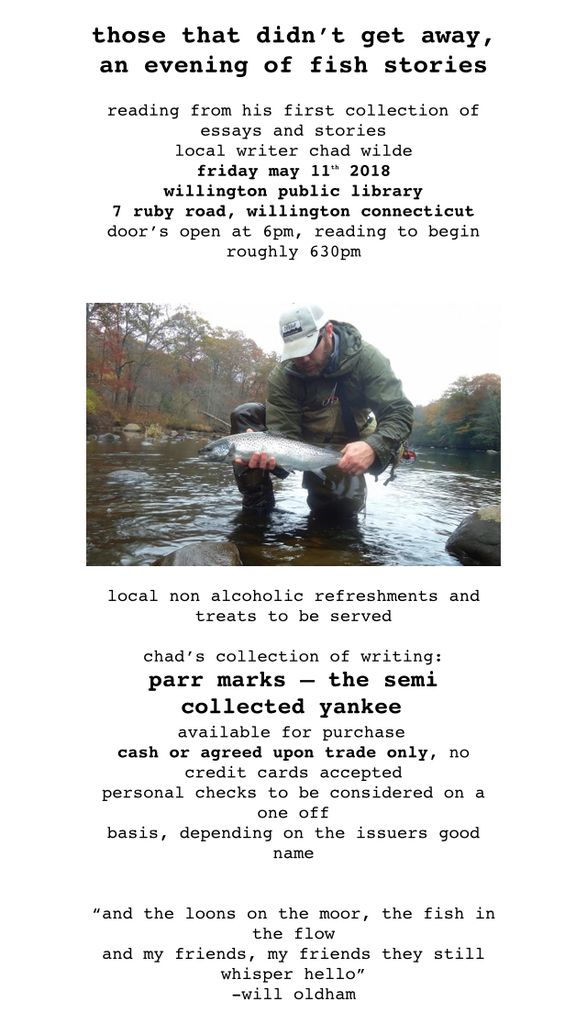 donated a buck a book, 50, to my town's library. had a party after the reading but no one showed up. well, 7 of us did. if anyone else did? we'd a tole em to fuck off we were full.
needed a boat upgrade.
bought a boat, a 55# thrust, and 4.5hp. fuck it. go all in. 14' john that i'm gonna build to savage pikes. i named it the river marin springs eternal after my kids, and a genius. good mojo on this bitch, got it from a guy who arguably caught the state record walleye back in teh winter but the fuck released it. my buddy e.
got home mad late.
fuck it. go on foot.
picked up some dinner for the "guide" who ain't guiding at this point, but he's teaching. like he learned from his father, and so on and so forth.
get right the fuck back out there. get ready. wisco trip coming. start texting with these fellas. dag. good people. stopped for carp on the way since pogo was fashionably late. or were we? fuck a carp, hey. ate lunch first at raekwon's porch and hit the road with a freshie.
got into some fish thanks to brian's dope ass smallmouth swap shit. i did a sick over rock mend to keep the popper in the flow of a trip and the bass came outta nowhere and we were on the board. pre piking, you understand. many many giggly trees.
got up courage. i swear by this stuff. my wife will sell you some. i must say i wore this stuff all over me, draped in valor on 8/3/18. love it.
boom. stripsetstripsetstripsetstripsetstripset. yup.
wiccaphasespringseternal. magicpractictioner.
raekwon is a hella stick. and a lefty. which is so nice.
so dope to see him get a fish, even a small one. TSA.
" " illington
ate those money ass sandwiches.
in beautiful country.
trust me. on the sticks, i'm no tranny. #wayworse #calcuttaprodealshades
of course i swam.
still chucking that lucky fly. fays dade.
till darkthirty
and beyond
fays dade. memories made. stayin sane. yeh, i was ready for wisco.