- Thu Feb 11, 2010 6:22 pm
#294476
Chubby Sex Chicken:
A love story
I had just woken up the other morning when I walked by the tying desk and noticed my bottle of Maker's had a cracked lid and had been considerably abused. There next to it on the desk were three passed out streamers. The Chubby Muffin, a Sex Dungeon and the Jamaican Chicken. I then heard a faint cry in the distance. Sounded like it was coming from the trash can. I peered over and saw a love child, abandoned for dead, laying a top a cum sock from last week.
Hook: TMC 8089 Size 6
Thread: GSP 100 (White or Yellow)
Eyes: Hairline Pseudo Eyes (Medium Bright /Chartreuse)
Legs: Barred Crazy Legs (Orange/Gold Flake)
Under Collar: Grizzly Matuka Burnt Orange
Mid Collar: Yellow Marabou
Over Collar: Yellow Deer Hair
Butt: Yellow Marabou
Head: Yellow Deer Hair
Throat: Salmon Orange egg yarn
Body: Cream SLF dubbing
Ribbing: Gold Wire
Step 1: Start the thread on the hook.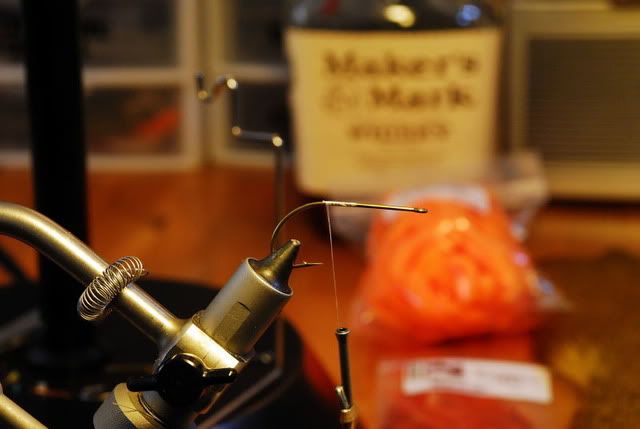 Step 2: If you had to follow step #1, go ahead and quit now and promptly die in a fire.
Step 3: Select an extra webby Marabou Quill. We are looking for high volume all the way to the tips.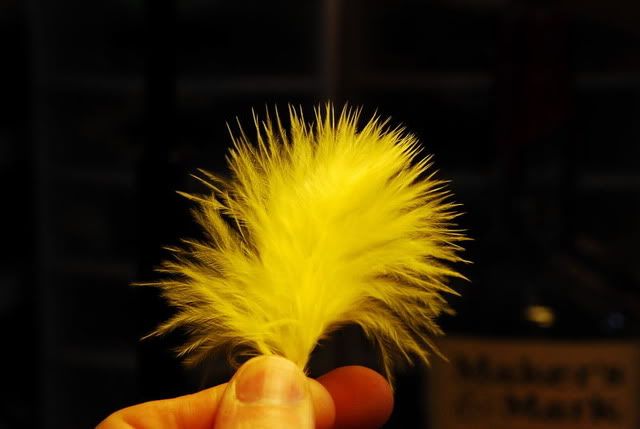 Step 4: Measure Marabou to 1 full shank length and tie in directly at the end of the shank before the bend. Work thread forward trimming the bou at ½ shank and wrapping down tight and neat.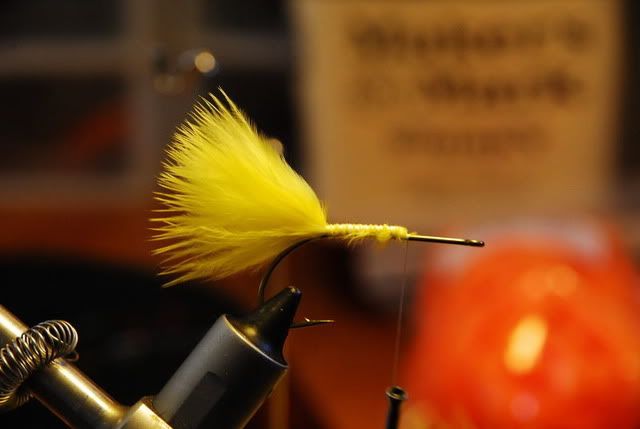 Step 4: Tie in wire ribbing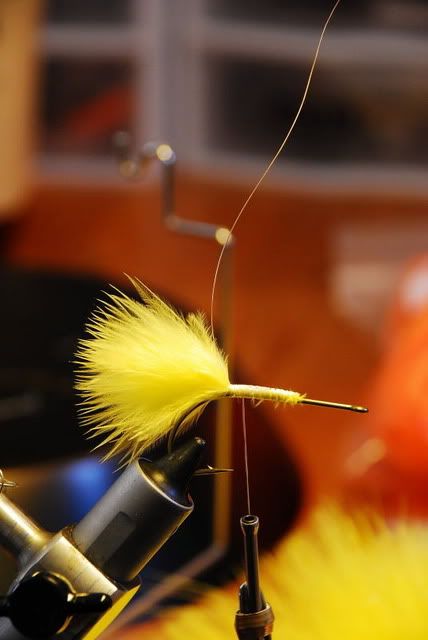 Step 5: Dub 1/2 of the length of the tied down marabou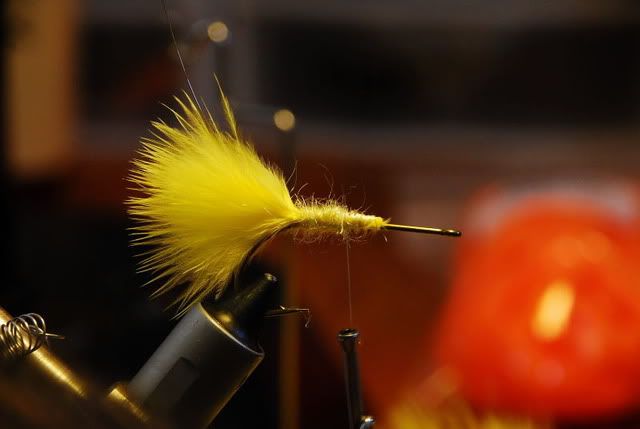 Step 6: Wrap ribbing forward and tie off where dubbing stops. Tie off, trim and wrap down rest. We are not looking for nice cosmetics here, just a durable underbody.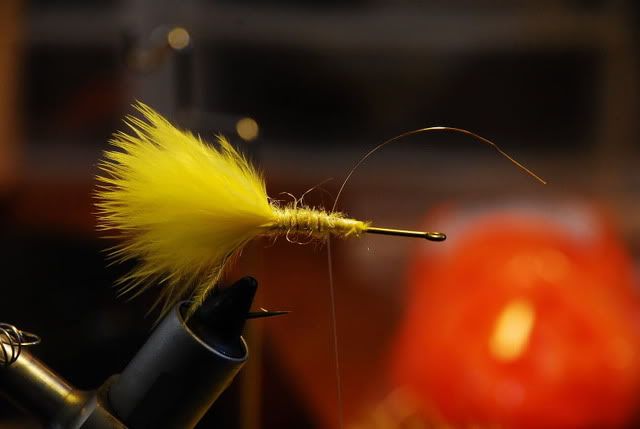 Step 7: Select a Matuka feather with long barbs and a webby butt section. DO NOT remove webby fibers except for just a few to expose a bit of stem to tie in.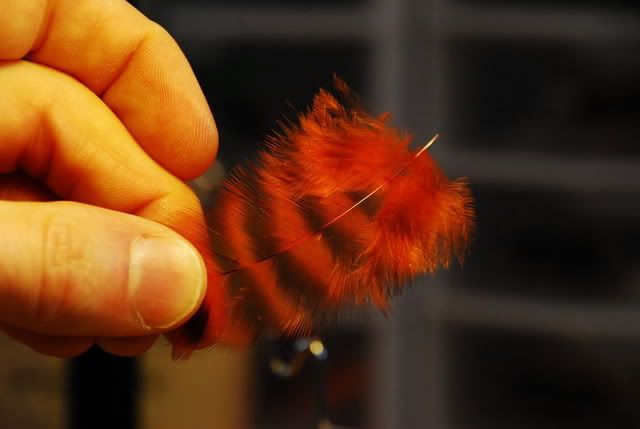 Step 8: Tie in butt end of Matuka rear facing where the dubbing stops.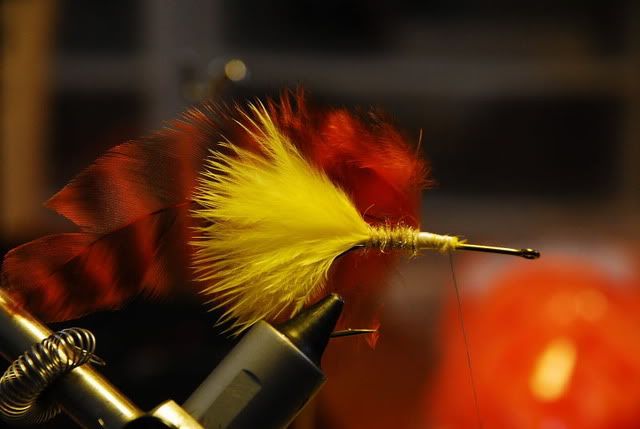 Step 9: Palmer Matuka forward in tight turns against one another, brushing fibers back making sure natural arch of fibers arches rearward and tie off. You should end right where the butts of the marabou stop.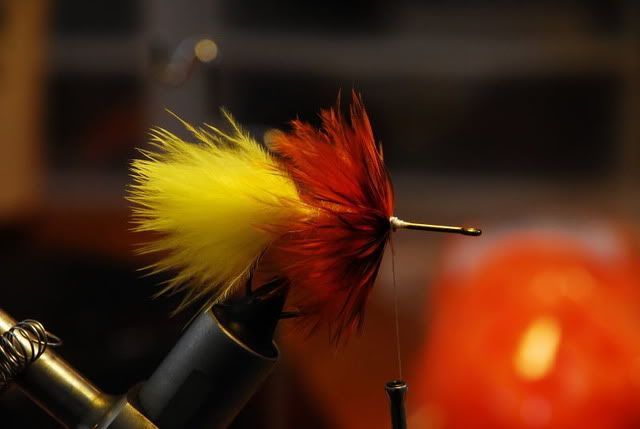 Step 10: Cut a section of Grade A natural Rabbit 1/8" strip 3x length of the hook shank (avoid poor quality, thin rabbit strips).
Step 11: Poke the hook point through the hide side of the strip just under 1/3 of the length from the front.
Step 12: Divide the Matuka fibers on top to prepare for the rabbit strip. Pull strip down to hook bend against Marabou plume, and pull front over body to tie down in front of Matuka and trim.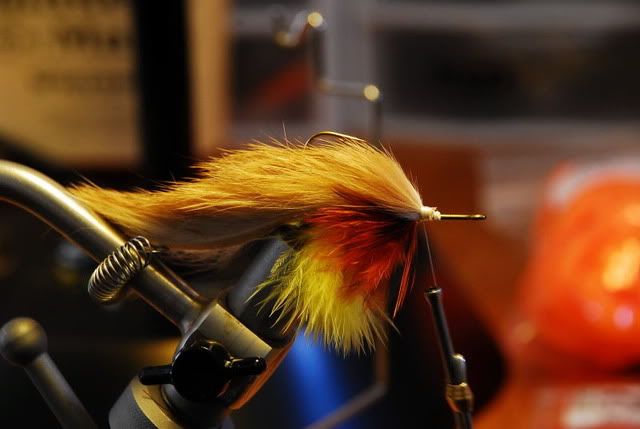 Step 13: Tear off a full 3 pieces of the Silly legs from a skirt. I leave the ends in tact to keep the legs more manageable. Tie them in where the rabbit is tied down with a single figure 8 wrap on top of hook and cinch down snug. Pull back legs rearward, holding them down and running a few wraps of thread tightly over the fold.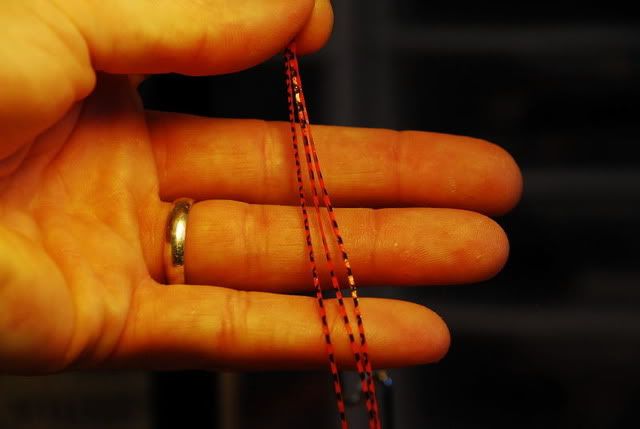 Step 14: Select 2nd yellow marabou plume, this time we want one with slightly longer (yet still relatively short), but less webbed fibers.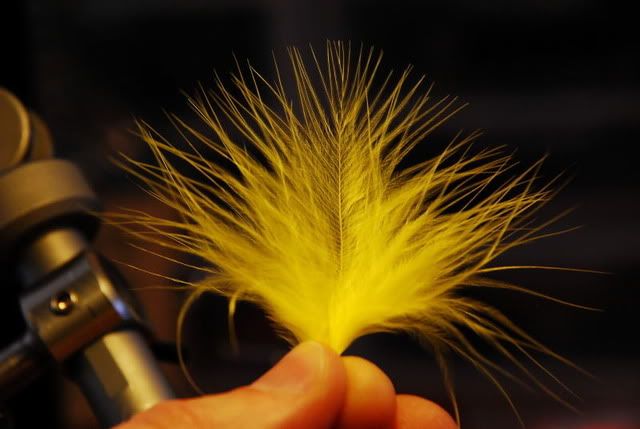 Step 15: Prep and tie in marabou at tips spey style. Palmer forward, again spey style, tie off and trim.
Step 16: Cut off a thick clump of deer hair, clean thoroughly and stack for the collar.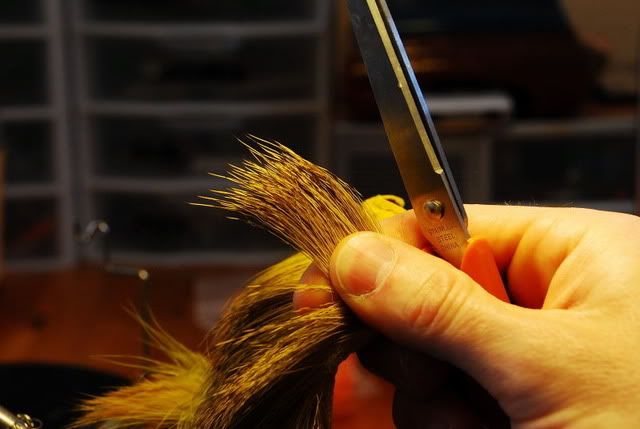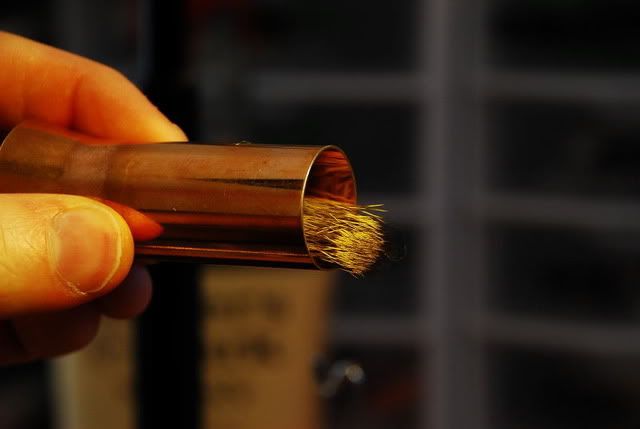 Step 17: Grab stacked deer hair by the tips and measure out to ½ shank length. Trim butts and tie down on top of hook shank (hook upside down). Give 2 snug wraps and lay thread over on third wrap. Push down on top of the collar with your thumb to spread the collar wide and thick. Make a few wraps to secure.
Step 18: Flip hook back over to mount eyes. Figure 8 wrap the eyes tight and securely. Push the eyes back snug against the butts of the collar.
Step 19: Wrap thread between the collar and eyes. Take a 2" section of egg yarn. Tie in yarn making a few wraps to secure. Wrap thread back in front of eyes and trim yarn even with height of eyes.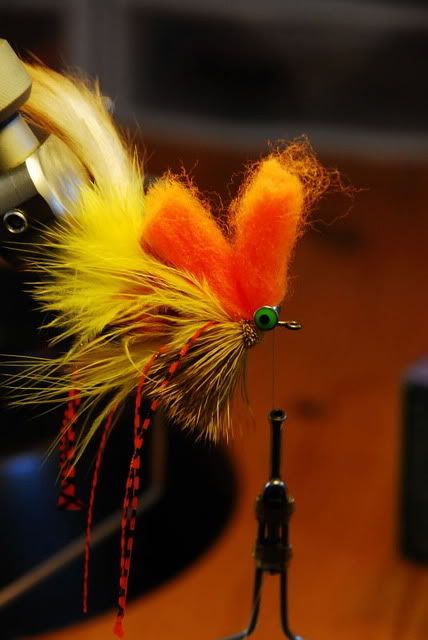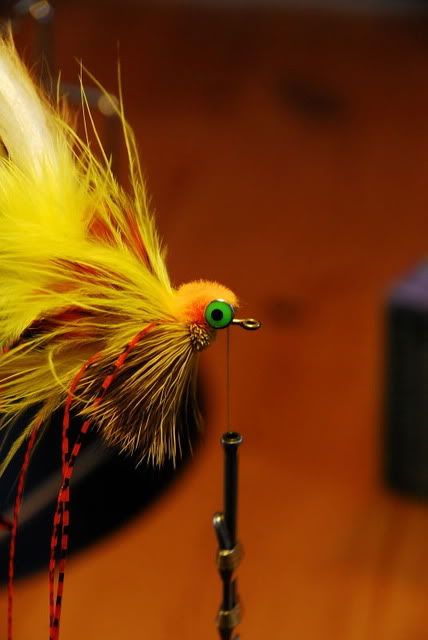 Step 20: Cut off another clump of deer hair. Clean thoroughly and this time don't stack, but trim off tips instead. Hold hair over shank side opposite of the eyes (same side as collar). Make two wraps, still holding the clump, and tighten down allowing thread to cinch into shank. Wrap thread through spun hair to eye, and make 3 half hitches in front of hair behind eye.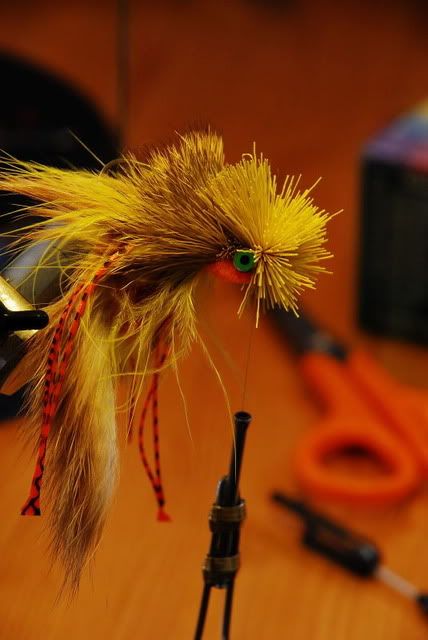 Step 21: Trim bottom hairs even with eyes and yarn. Use a needle or fine tipped zap-a-gap or super glue bottle to glue the thread at the half hitches. Cut thread free once bond has dried.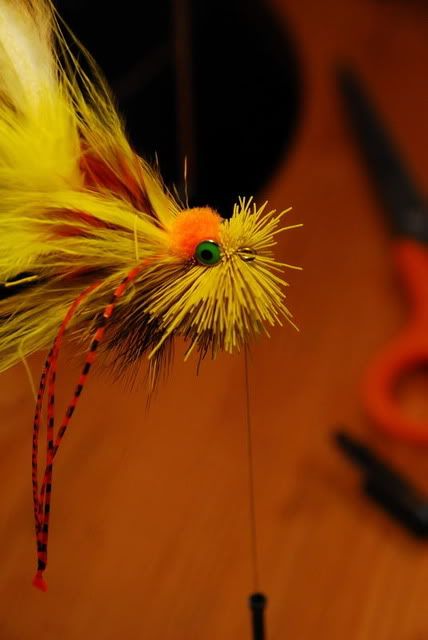 Step 20: Use a razor to trim top of head to shape.
Step 21: Trim the legs slightly shorter than the length of the rabbit strip.
Step 21: Nothing, you're done asshole.
Last edited by
Squiggly
on Fri Feb 12, 2010 8:10 am, edited 2 times in total.