By
thalweg
- Tue Apr 13, 2010 9:06 am
- Tue Apr 13, 2010 9:06 am
#308889
[report]It was getting dark on the 5th day of the trip when the 11 wt snapped. Our chickee was 5 miles away across a channel and through a maze of mangroves that was hard enough to navigate in daylight. We were damn near 40 miles from anywhere, tight to a pissed off protein rocket. Every pulse of her tail seemed to be pulling us out of our old lives into some uncharted territory. I took a deep breath and told Stovetop " Don't worry dude, we are landing this fish even if it pulls us to Mexico." We kept the pressure on her with the butt of the rod as she towed our boat built by men who did not have 100lb+ fish in mind when they laid her in the mold. The total absurdity didn't hit me until long after she first shattered the silence around us. When she ate Stovetop was on it with the "quart of blood technique". Her first jump was the most dynamic jump I have seen from a fish that size. She continued across the channel blowing holes in the water and then made her run back upstream around an island. We chased her down before she could get around the point and started putting pressure on her with our boat. She changed directions again, still jumping and headed for the gulf this time. The insanity of what had transpired up to this point crept up on me slowly and then became like an alarm bell ringing in my head when our 11 weight exploded. Stovetop finally worked her boatside with the silly stub of graphite, groaning for every inch. I leadered her 3 times and every time she would shudder and dive again. With the last light I finally got my hand in her mouth and when I relieved the pressure on the leader the fly just dropped out. She shook me boys, I had the beaver clamp on her and I just couldn't hold on. We both stood there numb, watching the silver shape fade into the dark water taking a large chunk of both of us with her.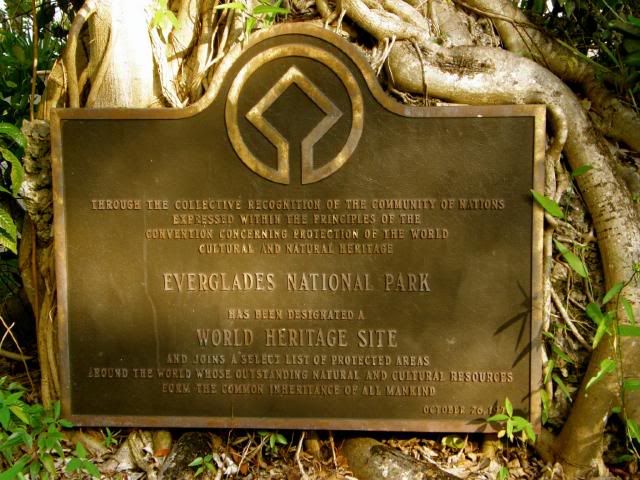 <object width="480" height="385"><param name="movie" value="
name="allowFullScreen" value="true"></param><param name="allowscriptaccess" value="always"></param><embed src="
&" type="application/x-shockwave-flash" allowscriptaccess="always" allowfullscreen="true" width="480" height="385"></embed></object>[/youtube]
We loaded The Great White Hope after work on friday and set her on a southeasterly course.
I woke up to this somewhere in northern floribama.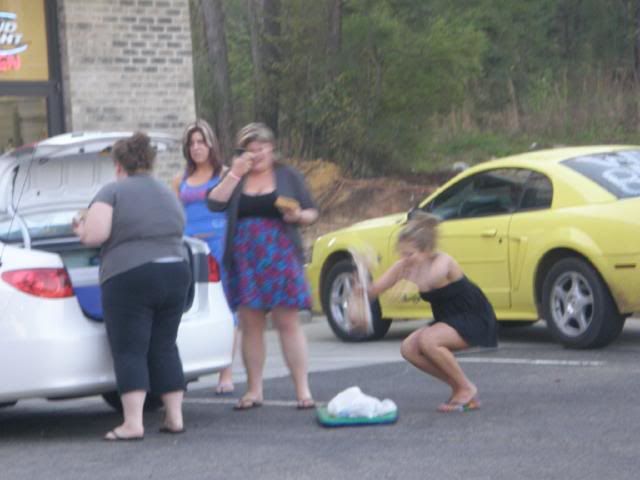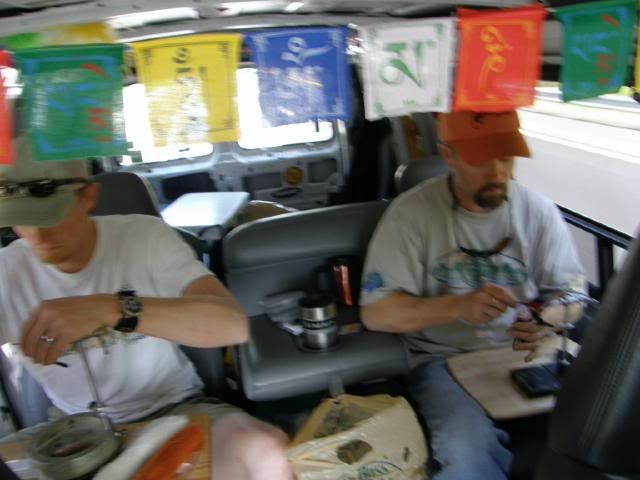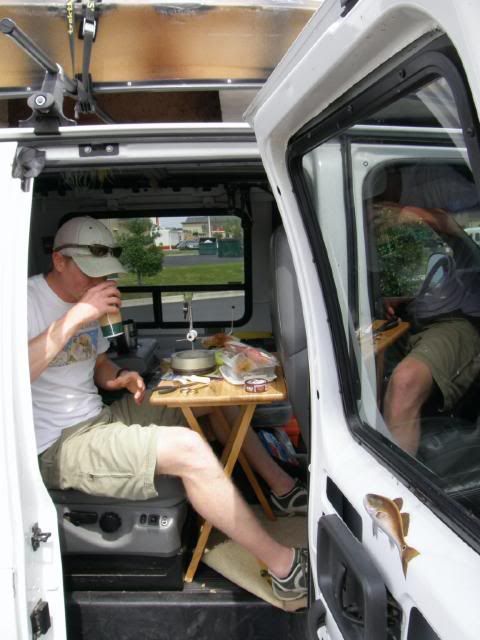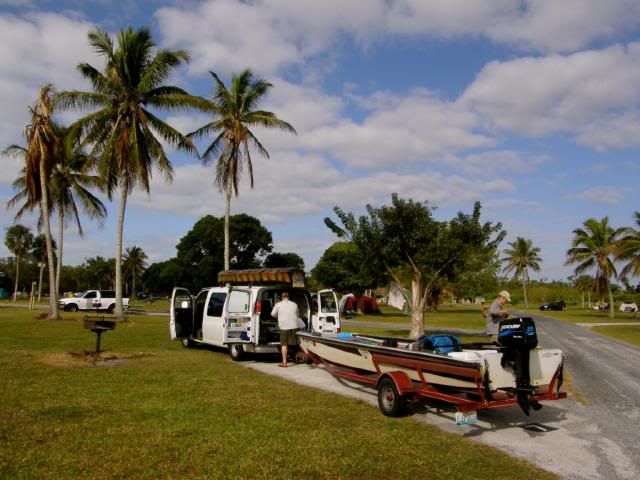 Sorry Nemo, I couldn't resist.
Our home for the first night comes into view. If you are the kind of person who struggles with navigation even a little bit, you wouldn't have a very good time here.
We found tarpon on the first night rolling in a shallow muddy bay. We couldn't feed one and had to move on the next morning.
On our way we found the only snook we saw all week. Aint he cute?
You are now entering the food chain. We saw tons of crocs, gators, and big bull sharks. This guy was probably 12-14 ft.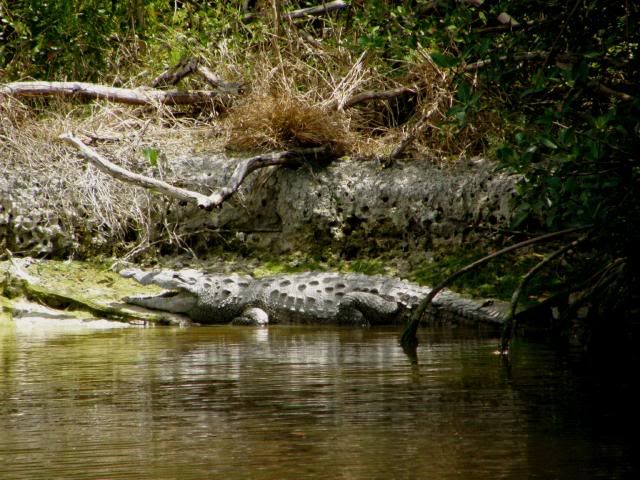 Shark bait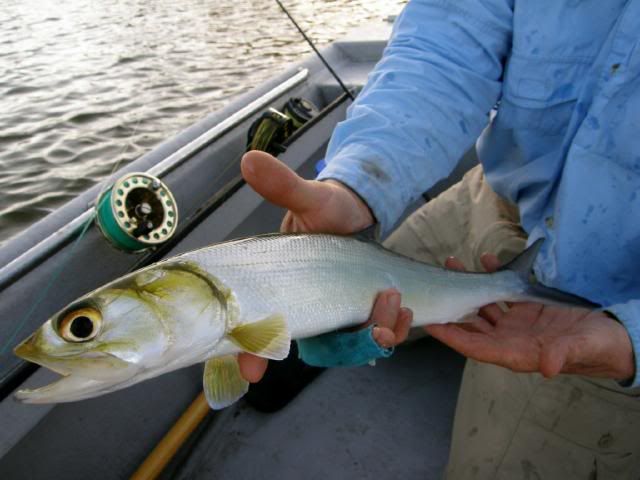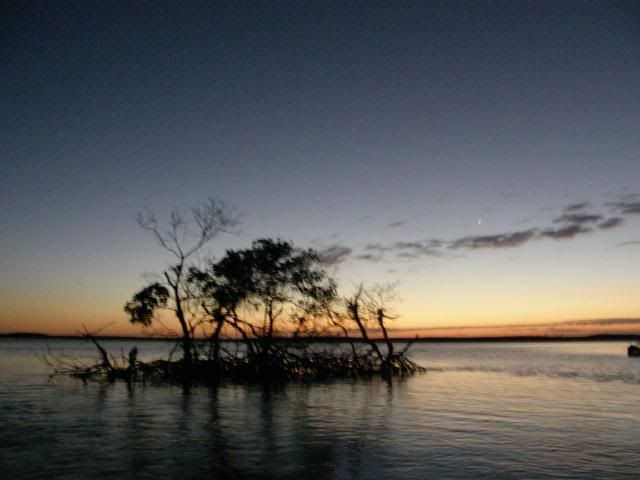 We spent the next night at a spot on a river that snakes its way out to the gulf. I have never seen anyplace more sharky. After dinner we rigged a rod with an 8/0 circle hook and some cut bait.
ladyfish head for kyner
If you want to catch a cobia, turns out a ladyfish head laying on the bottom is a good way to go.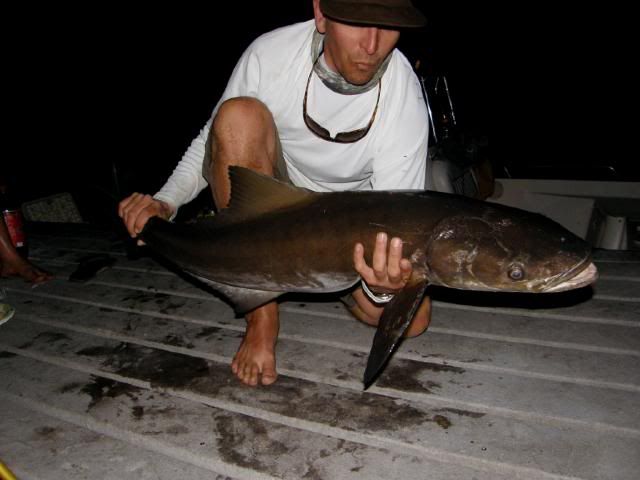 The next morning we had to move again, this time we wound our way up a river into a freshwater bay.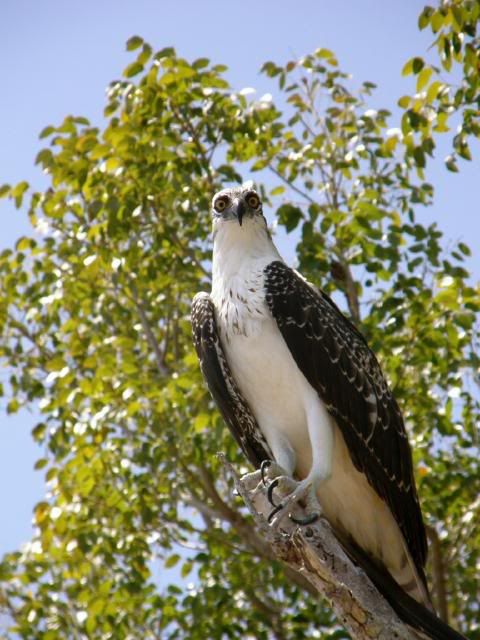 Lurker with a little redfish.
The 2 lurkers that followed us out there deserve a medal for bravery.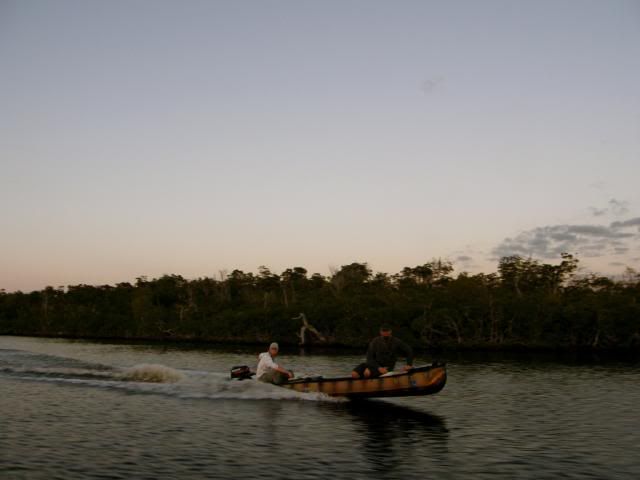 Our spot that night was the buggiest place I have ever been, as soon as we set foot on the deck, the mosquitos and noseeums descended on us in clouds.
We wolfed our dinner through our headnets and ran for the safety of the tents.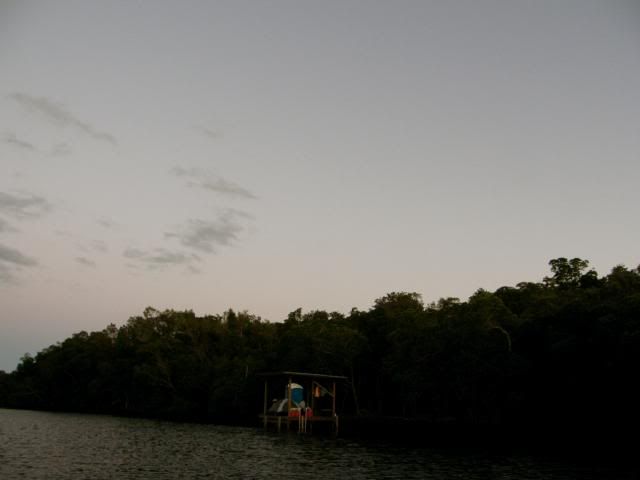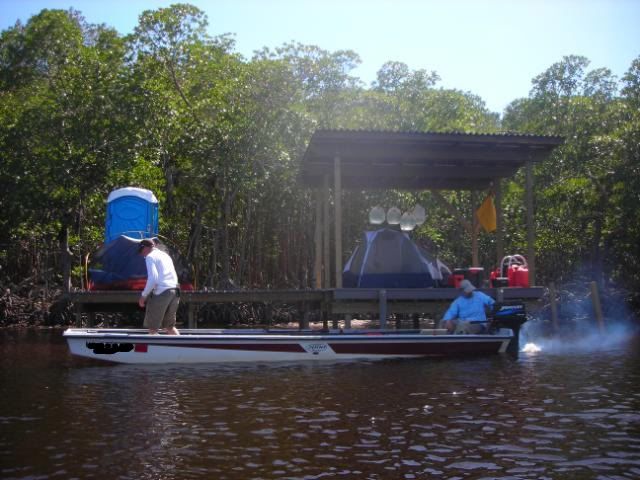 When we got our permit,I flirted with the ranger lady a little bit and scored us consecutive nights at our next chickee.
Now, instead of having to pack up and move in the morning we could get down to some serious fishing.
We split up and went looking for tarpon. I knew I could find them if they were there.
We caught trout all week, they are thick right now. I am not even going to show you all of the trout pictures, here are two.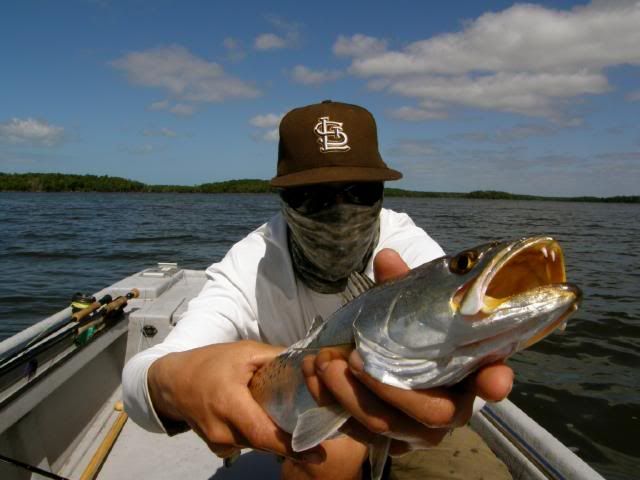 At this point the pictures get kind of thin. I was pushing us around a corner to a spot we saw on the map that looked nice, and we found them.
They were laid up in the slack on a mud edge. Just like we thought they would be. The 8 got thrown in the bottom of the boat and forgotten. We spent the next two days jumping fish. The night before we landed our fish Stovetop jumped a fish that was probably 160lbs. The poor kid will never be right again.
It is damn hard to take pictures while poling a boat. I don't know how some guys pull it off. The only pictures I have of Stovetops fight with that annimal suck.
I have a sequence of the hook set and one during the fight before the rod popped.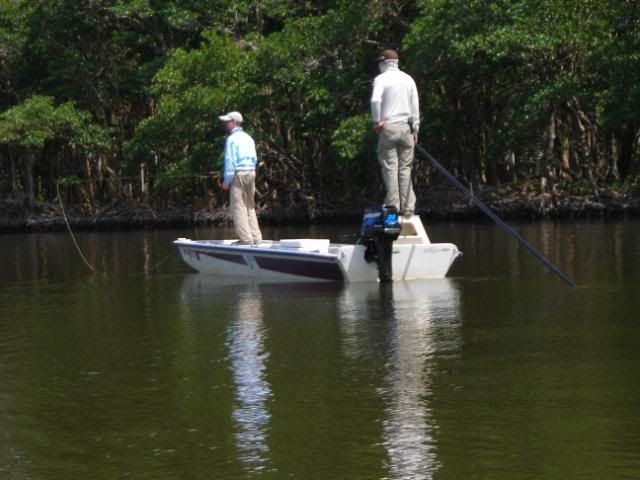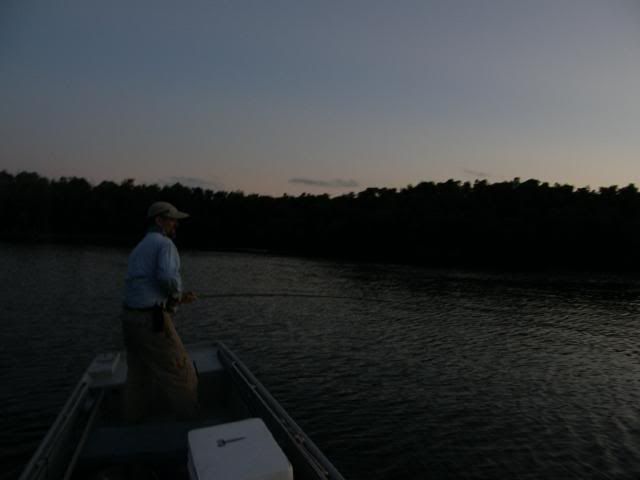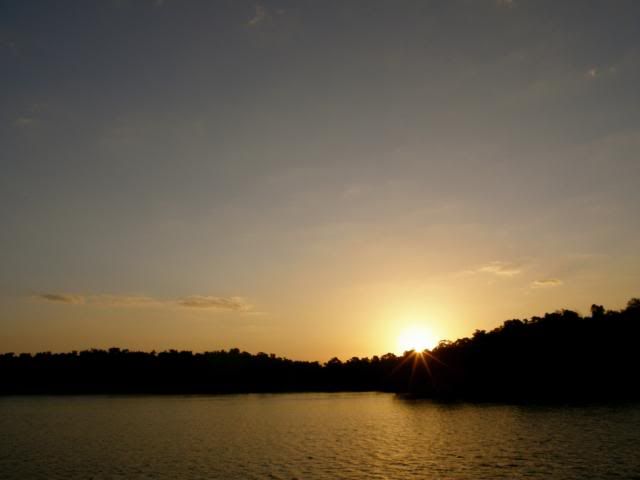 We got up the last morning, saltcrusted, mud caked, and bloodstained. We went out and fished the incoming one last time, and had to leave. On the long ride back I sat and looked out over this crazy place, I couldn't belive that we pulled it off. We did what we came to do.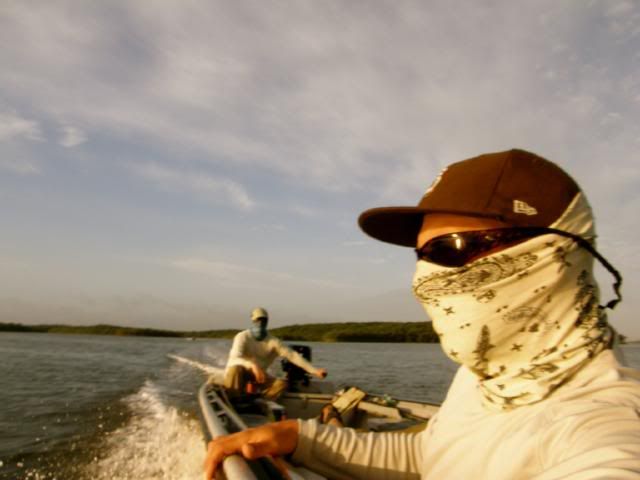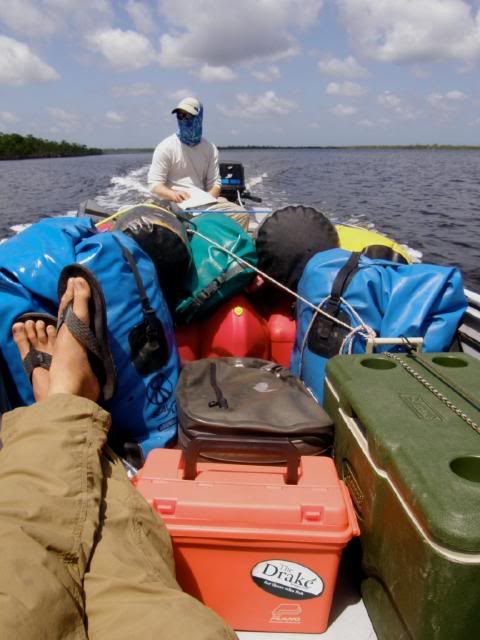 [/report]
"only two things smell like fish... and one of them is fish." -grandpa

"Please take a brief moment to answer this question as the ferry approaches the shore.
Do you have the coin to pay for your passage, or the courage to take up the oar?" -the sword

"Dreams are free motherfucker!" -d boon